Center Stage
(1992)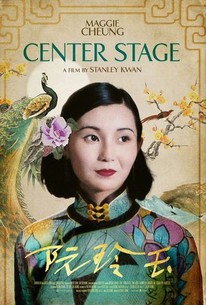 Movie Info
International superstar Maggie Cheung (In the Mood for Love) embodies tragic screen siren Ruan Lingyu, known as the "Greta Garbo of China," in this unconventional biopic by Hong Kong New Wave master Stanley Kwan (Rouge). Praised for her moving and emotive onscreen presence, Ruan's private life, which was frequent fodder for the vicious Shanghai tabloids, began to mirror the melodramas which brought her fame, culminating in her suicide at age 24. Kwan and Cheung paint a kaleidoscopic yet intimate portrait of the ill-fated actress, deftly blending lush period drama, archival footage, and metatextual documentary sequences of Cheung reflecting on Ruan's legacy. The result is, much like the films of Ruan Lingyu themselves, "tender, vivid and almost overwhelmingly moving" (Time Out).
Critic Reviews for Center Stage
Audience Reviews for Center Stage
The film is based on a biopic of the silent film goddess, a legendary Chinese actress of the 30's. Ruan Ling Yu is a link of the lost Chinese black and white genre and the current cinemagraphy. Many Chinese silent film were either unknown, lost or not well preserved. This film can be quite educating when it comes to Chinese film history. Maggie Cheung's performance deserves an Oscar. The flow of the film can be quite confusing nevertheless it's still a good documentary-liked melodrama. Kinda like the movie Ed Wood.
Center Stage Quotes
There are no approved quotes yet for this movie.