Central Station (Central do Brasil)
(1998)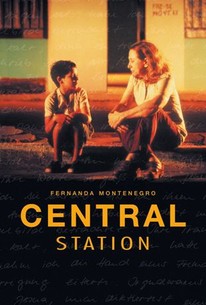 Central Station (Central do Brasil) Photos
Movie Info
Dora is a former school teacher who makes a living by writing letters for illiterate people passing through Rio de Janeiro's main train station, Central Station. Among her clients are Ana and her nine-year-old son Josue, who has a fierce desire to meet his father, whom he has never seen. Dora has become stoically indifferent to her charge, choosing arbitrarily to send some letters and discard others with the help of her neighbor Irene. A sudden accident leaves Josue orphaned at the station and this is when Dora's life begins to change dramatically. Swayed by a curiously maternal compassion, Dora commits to returning Josue to his father in Brazil's remote Northeast.
Critic Reviews for Central Station (Central do Brasil)
Audience Reviews for Central Station (Central do Brasil)
½
Warm and deeply moving, this is not your typical road movie but a wonderful drama that will make you laugh, cry and in the end feel like you got to know these characters and shared this unique experience with them - a merit also of its two magnificent central performances.
Carlos Magalhães
Super Reviewer
Central Station is of a tale of sorrow that brought two strangers together to embark on an uncertain journey. Sophisticated cinematography and lush musical score. Metaphor-rich, heavy, moving, and very powerful that is surely to deliver a pinch in the heart.
Jan Marc Macababayao
Super Reviewer
½
certainly it's a story we've seen before: cranky person saddled with kid learns compassion and reconnects with humanity. what keeps the viewer engaged is the wonderful performance of fernanda montenegro, always pulling it back from the brink of sentimentality, and the lovingly photographed brazilian countryside
Stella Dallas
Super Reviewer
Central Station (Central do Brasil) Quotes
There are no approved quotes yet for this movie.