Cerberus
(2005)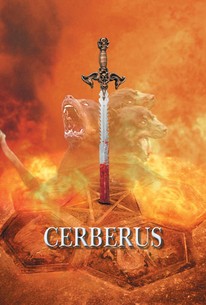 AUDIENCE SCORE
Critic Consensus: No consensus yet.
Movie Info
The theft of an ancient sword unleashes the fury of one of the most feared mythological creatures ever in Malevolent director John Terlesky's tale of ancient evil turned modern terror. Attila the Hun's legendary sword has been stolen by a rampaging band of marauding mercenaries, and now the powers of hell are about to be awakened. In ancient times, tales of Cerberus struck fear into the hearts of man. A three-headed dog with jaws of steel and a hunger for human flesh, Cerberus was an unstoppable force of hellish destruction. Now, with Attila the Hun's sword missing, the carnivorous canine has been resurrected and modern man must find a way to slay the monstrous beast before the forces of darkness plunge the world into chaos.
Critic Reviews for Cerberus
Audience Reviews for Cerberus
It's not too bad for a low budget film but the special effect is laughable. Not scary at all despite the poster being fantastic, the plot is simply ridiculous, who came up with the idea of Hungarian sword?
Sylvester Kuo
Super Reviewer
I tuned in to watch this on the Sci-Fi channel expecting the worse. I'm glad, or rather confused, to say I found it very much watchable and yes, even enjoyable. The plot doesn't matter, nor does much else. I was simply in the mood for this kind of cinematic fast food. The CGI Cerberus doesn't look great, in fact he looks pretty poor but is still somehow effective. Perhaps this is because he serves his purpose in eating people and he didn't look so bad that I was laughing. I got rather wrapped up in the whole plot despite the absurdity of it. I would gladly watch it again despite it's lack of quality.
Luke Baldock
Super Reviewer
Cerberus Quotes
There are no approved quotes yet for this movie.