Ceremony
(2011)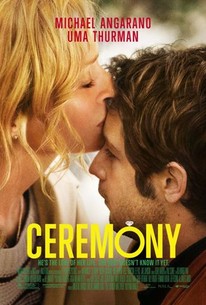 Movie Info
Sam Davis (Michael Angarano) convinces his former best friend to spend a weekend with him to rekindle their friendship at an elegant beachside estate owned by a famous documentary filmmaker (Lee Pace). But it soon becomes clear that Sam is secretly infatuated with the filmmaker's fiancée, Zoe (Uma Thurman), and that his true intention is to thwart their impending nuptials. As Sam's plan begins to unravel, he is forced to realize how complicated love and friendship can be.--(c) Magnolia
News & Interviews for Ceremony
Critic Reviews for Ceremony
Audience Reviews for Ceremony
This was much better than the ratings would have you believe. It starts off a little bit dull and like it might be a second rate rip of The Wedding Crashers. Quite honestly I was expecting a suckfest (I still haven't quite forgiven Uma for the awful "Accidental Husband"). I was glad I stuck it out, though, as this was quite a nice story about the one that got away. The ending wasn't really obvious (even at the ending there was a little left to your own imagination), and it just had really good characters. More like an indie film that the chick flick it appears to be. Maybe that's why the low rating.
Nicki Marie
Super Reviewer
Cast: Michael Angarano, Uma Thurman, Reece Thompson, Lee Pace, Rebecca Mader, Jake M. Johnson, Brooke Bloom, Harper Dill Director: Max Winkler Summary: Michael Angarano stars in this indie comedy as Sam, a naïve twentysomething who falls head over heels in love with Zoe (Uma Thurman), a beautiful older woman who's about to marry a pretentious documentary filmmaker (Lee Pace). Refusing to give up hope, Sam drags his best friend (Reece Thompson) to the seaside town where the wedding is set to take place in a last-ditch attempt to head off the nuptials. My Thoughts: "I absolutely loved this movie. It was so quirky and the character's are so greatly done. Michael Angarano and Reece Daniel Thompson are fantastic in the movie. They had such an easy flow with each other which made their character's even better. The script is smart and maybe not original but definitely well written and greatly executed on screen. Sam, who comes off very confident and sure of himself has dragged his deeply depressed best friend, Marshall, who he hasn't spoken to in a year, off on a weekend get away. Marshall is under the assumption it was a trip for them to spend time together, not knowing the trip is in fact for Sam to try and woo his lady back. The relationship between Marshall and Sam is odd and very entertaining. As the story unfolds the dynamic between Marshall and Sam change. They unknowingly switch roles with each other. I found the movie refreshing and loved every minute of it. Lee Pace definitely demands the screen in every scene he's in. Uma Thurman does justice to her role and doesn't over do it. Just a great quirky comedy that I will have to see again."
♥˩ƳИИ ƜѲѲƉƧ♥
Super Reviewer
½
I'll admit that this shares a very similar style to something by Wes Anderson (and maybe Jonathan Demme's Rachel Getting Married), but it is really well done and manages to say something unique by the end. What stood out most here was the amazing dialogue; it was simultaneously comic gold and honest to the characters and tone. Max Winkler might be a first time director, but he clearly has a great idea of what it takes for a movie to work. I think the story is well put together and it moves along smoothly instead of being awkward and boring. Part of this is due to the characterization and performances. Michael Angarano was perfect in my opinion; his delusional sense of happiness and manipulation mind games were priceless. It's a character that could come off as a complete bastard, but somehow he made it lovable and sympathetic. His violent children's book reading in the opening starts the character off perfectly. Lee Pace also had completely genius rendition of a deranged British filmmaker who spends his time making documentaries in Africa. While this movie might be thrown in the "hipster" genre, it actually bears no resemblance to that at all. While it has a nice sense of uniqueness and originality, it's not the focus of attention and there's no bizarre stereotypes. If anything, this embraces the happy-go-lucky comedy genre and doesn't spend a whole lot of time being too realistic or moody. It's fine with just being consistently funny and having likable characters; even if their actions are not exactly honorable.
Conner Rainwater
Super Reviewer
Ceremony Quotes
There are no approved quotes yet for this movie.