Certified Copy (Copie Conforme)
(2011)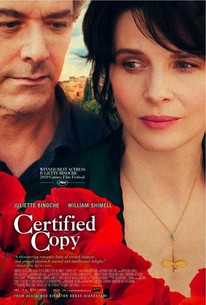 Certified Copy (Copie Conforme) Photos
Movie Info
Juliette Binoche won the Best Actress prize in Cannes for her performance in this playful and provocative romantic drama from legendary auteur Abbas Kiarostami (TASTE OF CHERRY, THE WIND WILL CARRY US), his first feature made outside of Iran. Binoche plays a gallery owner living in a Tuscan village who attends a lecture by a British author (opera star William Shimell) on authenticity and fakery in art. Afterward, she invites him on a tour of the countryside, during which he is mistaken for her husband. They keep up the pretense and continue on their afternoon out, discussing love, life and art, and increasingly behaving like a long-married couple. But are they play-acting on a whim, or is there more to their seemingly new relationship than meets the eye? -- (C) IFC
Critic Reviews for Certified Copy (Copie Conforme)
Audience Reviews for Certified Copy (Copie Conforme)
½
A brilliant drama that begins with a realistic approach but then suddenly shifts to a more surrealistic tone after halfway through, becoming so emotionally involving and raising a fascinating discussion about our perception of the value of Art - original or not.
Carlos Magalhães
Super Reviewer
½
I'm embarrassed to admit it, but "Certified Copy" is the first Abbas Kiarostami film I've seen. During the 1990s, when Kiarostami's reputation was growing, I was not that focused on international high-art cinema. I didn't start paying careful attention to the Cannes Film Festival, for example, until about 10 years ago. Cannes played a central role in expanding Kiarostami's audience beyond Iran, where he lives and works. His film "Taste of Cherry" won top prize at Cannes in 1997. "Certified Copy" has a number of intriguing elements, but I don't think too many would consider it a major work of art. It was accepted into competition at Cannes in 2010, but it lost (thank goodness) to the near-masterpiece "Uncle Boonmee Who Can Recall His Past Lives." Juliette Binoche did win Best Actress that year for her work in the film. But I think the Cannes Jury, led by Tim Burton incidentally, was overly generous to her. She's a great actress, but her work in "Certified Copy" was not particularly significant in my view. Binoche plays a French art dealer living in Italy. Her specialty is copies of major works of art, particularly statuary. An English art scholar is visiting her small town in Tuscany on a book tour to promote the Italian translation of his new work "Certified Copy," which critically examines the concept of originality. She volunteers to take him on a driving tour of the area, and the film chronicles their day trip. It is actually filmed in Italy, Kiarostami's first time filming outside Iran I'm told. In a highly unusual bit of casting, the art scholar is played not by a professional actor, but by a famous opera singer, William Shimmel. From what I've read, Kiarostami is quite the polymath, having expertise not just in cinema, but also in painting, photography, poetry, and even graphic design. He's a true Renaissance man. His casting of an opera singer embodies that broad interest in the arts, I would say. He seems to see cinema not as standing alone, but as part of a tapestry of modern arts. The film itself also has that polymath quality. Everywhere you go in "Certified Copy" there's some kind of art, especially painting and sculpture. But even clothes, jewelry and wine are approached artistically. Philosophy is also everywhere. In the first 20 minutes, it seems that the film is going to be a fairly straightforward talk-fest about art and philosophy. But then something quite bizarre happens. The protagonists slowly become different characters. This happens so subtly and gradually, that you don't entirely know when they change. Suddenly I realized they were not strangers, but a married couple celebrating their 15th anniversary. I was so disconcerted and intrigued that I had to go back and watch for the first signs of this change. This was fun, and I liked the mind-bending quality. The problem is that I didn't think this avant-garde technique really meant that much ultimately. It certainly is unusual, but what does it say? It conveys the fluidity of identity and the illusion of the self, but this has been done many times before -- far more trenchantly in "Uncle Boonmee" in fact. It also brings into sharper focus the nature of cinema as a copy of life. There's also a refracting quality, exploring how even in "real life" we often feel like we're imitating something or someone -- sometimes imitating cinema! But this has also been done before and in far more exciting ways. (Jean-Luc Godard, anyone? Ingmar Bergman's "Persona"?) There's a flat look to "Certified Copy" most often, which is rather uninspiring. The cinematography I have to say is quite pedestrian most of the time. Very often the film looks as plain as a TV movie. It takes a lot of work to make Tuscany look plain, but somehow Kiarostami succeeds! So it's a mixed bag with "Certified Copy." Some interesting ideas are explored, but not in a way that's very inspiring or even original. Pardon the pun.
William Dunmyer
Super Reviewer
½
'Certified Copy'. An absolute gem on originality, value, and the perceptions that change one or the other. Two brilliant central performances and existential, intellectual questions aplenty! The film works on a very meta level, and by the end of it, I can't believe their relationship, or *what* their relationship was, was even up for debate. Clearly my perceptions changed well enough based on what looked like a certified, failed marriage to me, but who knows what someone else might have seen?
Certified Copy (Copie Conforme) Quotes
| | |
| --- | --- |
| The Café Owner: | It would be stupid of us to ruin our lives for an ideal |
| The Café Owner: | It would be stupid of us to ruin our lives for an ideal. |
| | |
| --- | --- |
| James Miller: | I'm afraid there's nothing simple about being simple. |
| | |
| --- | --- |
| She: | If we were more tolerant of each others weaknesses, we'd be less alone. |
| | |
| --- | --- |
| James Miller: | I didn't mean to sound so cynical, but when I saw all their hopes and dreams in their eyes, I just couldn't support their illusion. |
| James Miller: | I didn't mean to sound so cynical, but when I saw all their hopes and dreams in their eyes, I just couldn't support their illusion. |