Chafed Elbows
(2000)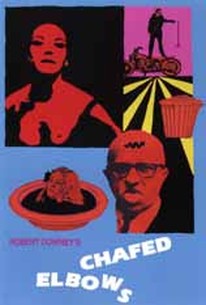 AUDIENCE SCORE
Critic Consensus: No consensus yet.
Movie Info
This New York art film is almost totally comprised of still photographs. It chronicles the hip and colorful life in SoHo during the 1960s. The filmmaker also comments and makes observations about the issues and cultural icons of the day; included are his insights concerning the underground film movement.
Critic Reviews for Chafed Elbows
All Critics (3) | Fresh (1) | Rotten (2) | DVD (1)
A series of one-liners and sight gags that amount to a cinematic equivalent of Mad Magazine, and it has Mad's adolescent intellectual-emotional level.
About some crude and silly childish business over shock gags and rages against convention.
It's all good clean fun, of course. I can't believe Disney hasn't remade it yet.
Audience Reviews for Chafed Elbows
Chafed Elbows is my favorite of the Downey Sr. explorations. It was the story of a man involved in incest with his mother, and is a direct involvement in a murder. It was a hysterical piece, the dry humor therapist scene had me laughing my ass off. Just these wise one liners all the way through, and underground cinema inside jokes made it an extremely interesting film. I thought the dubbing was annoying though, and would be better just to make it a regular shoot.
Daniel Dolgin
Super Reviewer
½
Feeling the onset of his annual November breakdown, Walter Dinsmore(George Morgan) checks himself into a hospital. While there, he finds himself pregnant and gives birth to 189 ten dollar bills. After which, he is turned into a work of art at gunpoint(or a walking advertisement for a fast food chain) which brings on his annual January breakdown. His psychiatrist(Lawrence Wolf) tells him not to worry, not believing Walter's worries about impregnating his mother(Elsie Downey), at least until she confirms it over the telephone. "Chafed Elbows" is an unpredictable and amusing movie, definitely belonging to the times it was made and the underground scene where it was formed in warning against the dangers of commodification. As such, it is influenced by the works of Preston Sturges(according to the director Robert Downey Sr. at the Q & A), and Chris Marker through its use of collage work, with the assistance of some wacky voices. The movie works so well in its own absurd and motley way that the otherwise tasteless incest storyline has little negative impact. If nothing else, Elsie Downey playing all of the female parts could imply the third biggest Oedipal complex of all time.
½
A chronicle of Walter Dinsomore's "annual breakdown," 1966: he gives birth to ten dollar bills, shoots a policeman, marries his mother and goes on welfare. This ultra-low budget underground comedy is told mostly through (cleverly manipulated) stills with only three actors supplying dozens of voices: it's almost like an illustrated radio play utilizing lots of leftover Marx Brothers jokes ("I've never been so insulted!" "You're young still.") The incest, police corruption and murder is too silly to count as "transgressive." An interesting experiment from the intriguing Robert Downey, Sr.
Chafed Elbows Quotes
There are no approved quotes yet for this movie.