Chained
(2012)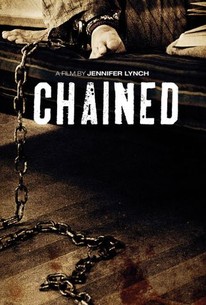 Movie Info
Coming home from a routine trip to the movies, eight-year-old Tim (Bird) and his mother, Sarah (Ormond) are picked up by a psychopathic cab driver named Bob (D'Onofrio). It ends up being their last ride together. Bob murders the young boy's mother and keeps Tim as his unwilling protégée, making him clean up the mess following each murder he commits. After a couple of aborted escape attempts, Bob chains Tim - now renamed Rabbit -- allowing just enough length to move freely within the house. As the years pass, Bob starts instructing Rabbit, teaching him anatomy and human behavior. Now a teenager, Rabbit (Eamon Farren, X: Night of Vengeance) is slowly being pressed by Bob to start his own homicidal spree. Slowly but surely, he must soon choose whether to follow in Bob's serial killer footsteps or make one final, desperate attempt to break free...
Critic Reviews for Chained
Audience Reviews for Chained
Whereas David Lynch is a master of creating great psychological stories full of symbolism, his daughter Jennifer always barely scratches the surface, here with another obvious film that is not really well conceived, be it literally or metaphorically (as a tale of parental "chains"), and the end is awful.
Carlos Magalhães
Super Reviewer
With this being her third film in roughly as many years, Lynch seems to have fully recovered from the battering she took over her 1993 debut "Boxing Helena". Her films certainly aren't to everyone's taste but they're never less than interesting. "Chained" lives up to the promise shown in "Surveillance" and is her most accomplished work to date. D'Onofrio has long been a favorite of mine and here he finally gets the lead role he deserves, a taxi driver who conveniently uses his profession to kidnap and murder young women. When he picks up Ormond and her young son, he kills the mother and decides to keep the boy as a slave. Years have passed and the boy is now a teenager (Farren) and has succumbed to Stockholm Syndrome. Feeling sympathetic, D'Onofrio decides it's time he let his captive out into the world but can only do this by forcing Farren to become a killer too. Lynch creates a claustrophobic atmosphere and Shane Daly's impressive cinematography is reminiscent of Fincher. Despite the bleakness, there are moments of black humor, particularly a game of Top Trumps played with the driver's licences of D'Onofrio's victims. Much of Lynch's good work however is undone by an absurd final twist which the director claims was a creative decision forced on her. Lynch has most definitely stepped out of her father's shadow at this point and is now a film-maker worth keeping an eye on.
The Movie Waffler
Super Reviewer
Chained is a decent horror movie that tries to be a dual character study of one man raised in physical bondage and another raised in emotional bondage. It has an interesting premise and features solid performances, especially from the ever creepy D'Onofrio. Also, the film offers some fine thrills and is absorbingly macabre. However, like many other films of it's ilk, it suffers from a lackluster ending. I think Lynch and Co. wanted to add a whole other dimension of terror at the end and decided to tag on a twist that for this reviewer was ultimately unsatisfying. But, in this unsatisfying horror climate, Chained was a good way to spend 1 and 1/2 hours.
Chained Quotes
There are no approved quotes yet for this movie.