Chairman of the Board
(1997)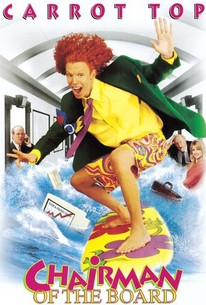 Chairman of the Board Photos
Movie Info
When an outlandish surfer does a good deed for a rich entrepreneur, the businessman writes him into his will. But when the entrepreneur dies two weeks later, the surfer suddenly finds himself chairman of the board of a Fortune 500 company.
Critic Reviews for Chairman of the Board
There are no critic reviews yet for Chairman of the Board. Keep checking Rotten Tomatoes for updates!
Audience Reviews for Chairman of the Board
I originally saw this when it came out, I was twelve at the time, and even back then I didn't think that this film was funny. Chairman of the Board is a dreadful mess of a movie with a poor script, poor acting and poor dialogue. The gags are horrible, and lead actor Carrot Top proves he's one annoying actor by delivering his "unique and irritating" brand of humour. I don't see how anyone could find this train wreck funny. This is humour at its lowest form. Chairman of the Board is boring, pathetic garbage. The film tries too hard at making you laugh with its boring jokes, only thing is, the jokes fall flat, and never take off. If you've ever had doubts about Carrot Top's comic delivery, this film will definitely give you a taste of what he's capable of-that's not saying much. This film is so poorly conceived I can't believe that they green lit this crap./ This film was awful with no redeeming qualities whatsoever. IO was bored with this film, and thought that it was an absolute waste of time. The film suffered from poor writing and a bad cast. The lead actor Carrot Top proves that he's a bad comedian, and really can't act in a film, much less perform a good comedy skit. If you're looking for a good comedy, this film definitely isn't it. This film scraps the bottom of the barrel and is one of the worst comedies that I have seen. The only recommendations I can give for this one is to avoid it.
HBO really lets a person explore the dreggs of movies.
James Alvarez
Super Reviewer
Chairman of the Board Quotes
There are no approved quotes yet for this movie.