Chalet Girl
(2011)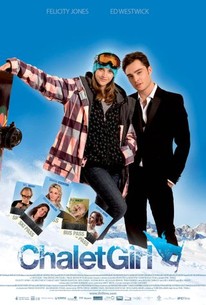 Movie Info
Pretty tomboy Kim (Felicity Jones) used to be a champion skateboarder, but now she flips burgers to support herself and her dad. Opportunity comes knocking when she flukes a winter-long catering job in one of the plushest ski chalets in the Alps. At first, Kim is baffled by this bizarre new world of posh people, vintage champagne, epic mountains and waist deep powder. Then Kim discovers snowboarding, and her natural talent soon sees her training for the end-of-season competition, with a chance to win major prize money. But before she can become a champion again, Kim needs to overcome her deepest fears - and figure out what's going on with Jonny (Ed Westwick), her boss' handsome but apparently unavailable son. -- (C) IFC
News & Interviews for Chalet Girl
Critic Reviews for Chalet Girl
Audience Reviews for Chalet Girl
½
What would otherwise be a mindless, sports comedy, the likes of "Grind" or "Out Cold", aimed mostly at the female sex, "Chalet Girl" is wholly saved by the always impressive Felicity Jones, who makes it utterly impossible to not be drawn into her natural radiance and adorable, mousy demeanor. With Bill Nighy, Brooke Shields, Sophia Bush and Ed Westwick rounding out the cast, the film is plucked from its straight-to-dvd nature and given some much needed credibility. Although the scenes involving Jones and her fear of doing jumps is completely overdone and the ending needlessly predictable, giving any reason to have Felicity Jones in the starring role of any film is means enough for me to see it and enjoy it.
Christopher Haskell
Super Reviewer
I watched this with my daughter, and we both enjoyed it. Very much an enjoyable, British, teenage, romantic comedy...but really well done.
Cynthia S.
Super Reviewer
Cast: Felicity Jones, Ed Westwick, Bill Nighy, Brooke Shields, Tamsin Egerton, Bill Bailey, Sophia Bush Director: Phil Traill Summary: Ex-skateboarder Kim Matthews is transplanted to the world of alpine sports, an environment she finds foreign ... until she tries snowboarding. When her Finnish friend Mikki offers to coach her, Kim is on her way to being tops in a new event. My Thoughts: "I didn't really know what this movie was about going into it since I didn't read the summary or watch a trailer on it. You ever do that? Well silly me, I did. So I was surprised by the emotions this film had brought with what I thought was going to be a silly comedy that would pass the time. There was some funny moments, but it was really a more of a sad story about a girl who loses her mother and her biggest cheerleader. After the death of her mother she refuses to pick up a skateboard again but soons picks up the next best thing, a snowboard. Great little movie with much heart as it has comedy with a bit of romance. Not bad acting either."
♥˩ƳИИ ƜѲѲƉƧ♥
Super Reviewer
Chalet Girl Quotes
| | |
| --- | --- |
| Bill: | Bill: Right, Austria, Good for 3 things; Breaded Food, The Sound of Music, and the invention of Physco Analysis... |
| Bill: | Right, Austria, Good for 3 things; Breaded Food, The Sound of Music, and the invention of Physco Analysis... |
| Bill: | Right, Austria, good for 3 things; breaded food, the Sound of Music, and the invention of physco analysis. |
| | |
| --- | --- |
| Jonny: | Sanity is overrated. Tried it once, didn't get it. |
| | |
| --- | --- |
| Kim: | No, irony is free. It's sarcasm you're paying for. Ironically. |