The Chamber
(1996)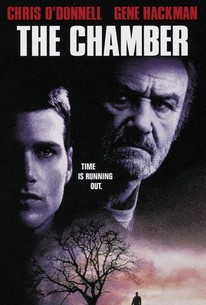 Movie Info
Based on a novel by John Grisham, this drama deals with a man trying to come to terms with his family and their ugly secrets. Adam Hall (Chris O'Donnell) is a successful attorney based in Chicago who travels to Mississippi to look into the case of Sam Cayhall (Gene Hackman). An outspoken racist and member of the Ku Klux Klan, Cayhall was convicted in the early '60s of the murder of a Jewish civil rights lawyer and his children. Pending a last-minute appeal, it looks as if Cayhall will finally go to the electric chair, and Adam has arrived to see what he can do. It hardly seems like the sort of case Adam would normally be involved with, until we discover Adam's secret: he is actually Cayhall's grandson, and despite his misgivings about the man's racist views, he wants to see if he can spare his life. Cayhall, however, has little use for Adam and even less regard for his legal skills. As Adam spends time with his Aunt Lee (Faye Dunaway), who witnessed Cayhall's execution of a black man years ago, he gets a more complete and disturbing picture of Cayhall's race hatred and the terrible toll it has taken on his family and the community. The Chamber marked the acting debut of former baseball and football star Bo Jackson.
Critic Reviews for The Chamber
Audience Reviews for The Chamber
Hard to watch at times, but very well done. This film could've used better editing, because there's a lot of useless scenes here, but overall, a good film. I haven't read the Grisham novel though, so I can't say if this was a faithful adaptation or not.
Stephen Skudlarek
Super Reviewer
½
Nothing annoys me more than sitting through a film I consider to be very good, or perhaps even excellent, and then reading reviews about it afterwards that are wholly negative and often very untrue in their descriptions. "The Chamber," released in 1996, and based on John Grisham's novel from two years earlier, is one such movie. Having read both the book and having seen the film, I draw two conclusions. The first is that I believe the movie to be as good (Perhaps even better) than Grisham's novel. The second is that the movie is a great piece of film-making; one of the most mature, thoughtful and intelligent to have come out of Hollywood in the past few years, especially when one takes into account that it's dealing with some very complex themes and issues. Gene Hackman plays Sam Cayhall, the racist bigot from America's ole' South, whose been on death row for several decades, following his involvement in the unintentional murder of a Jewish family. Cayhall has a month to live, and, just as even he has given up on any hope of a successful appeal, the old man gets a visit from his grandson lawyer, Adam Hall (Competently played by Chris O'Donnell). Adam is determined to get his grandfather off the row (Much to Sam's annoyance), and sets about digging up his family's past in the hope of discovering the truth surrounding the crime that Sam committed. The truly great thing about "The Chamber" (And perhaps something which John Grisham, its author, deserves the credit for) is that right from the opening scenes, we are never unsure about Sam's guilt. He's as guilty as sin. This is unlike Tim Robbin's "Dead Man Walking," (A film which many critics claim is superior and are forever comparing "The Chamber" to), where the audience is almost wrongfully 'Conned' into believing its protagonist's innocence, presumably in the hope of us sympthasing with him all the more. But, with "The Chamber," although Sam Cayhall is a spiteful, hateful and guilty sinner, we sympathise with him because we sympathise with O'Donnells all-too-true belief that he still doesn't deserve to die. After all, how can someone whose been brought up and raised in such a dreadfully racist and hateful environment turn out to be any better than Sam? The film is an important character study, as much as what it is a study of such afore-mentioned important themes(s). It never shies away from dealing with issues such as racism, making the 'Showdown' scene towards the end between Cayhall and one of his sickening 'Admirers' to be all the more brilliant. The film has faults, sure. For instance, Faye Dunaway as Adam's alcoholic Aunt struggles manically, and gives a much too dramatic and theatrical performance for this film. Gene Hackman also has some trouble in a very difficult role, although he's much more effective in the later scenes, where he begins to realise his mistakes. Perhaps the film's biggest mistake is in its failure to develop a proper character out of 'Rollie Wedge' (Robert Prosky), the man who may or may not have been involved in the terrible murder that Sam is now on death row for. I rarely cry in movie, but I cry every time I watch "The Chamber;" not just during the suitably hard-to-watch and claustrophobic closing scenes, but also during the final sequences between Sam and his grandaughter. It's a truly touching piece of film-making, and a very thought provoking and intelligent one. If only a better director had been at the helm, and the odd performance had been touched up a bit, this picture would have been an instant classic.
Cassandra Maples
Super Reviewer
½
A hard-hitting and heart-racing edge of your seat thriller. Pulse-pounding and gut-wrenching. Gene Hackman gives one of his greatest performances ever
The Chamber Quotes
| | |
| --- | --- |
| Sam Cayhall: | Save me. You don't look like you can save a turkey from Thanksgivin'. |
| | |
| --- | --- |
| Aunt Lee: | Pretty good for poor white trash. How well I'll be accepted after everybody finds out I'm Hitler's daughter is another thing. |
| | |
| --- | --- |
| E. Garner Goodman: | How much do you know about the death penalty? |
| Adam Hall: | I've read everything there is. |
| E. Garner Goodman: | Then you know nothin'. |
| | |
| --- | --- |
| Sam Cayhall: | If you spend half as much time tryin' to be a lawyer instead of tryin' to be Dick Tracy, I might not be dead in five days. |