Changing Lanes
(2002)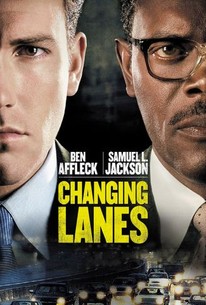 TOMATOMETER
AUDIENCE SCORE
Critic Consensus: Though some may find its conclusion unsatisfying, Changing Lanes is a tense, well-crafted exploration of meaty ethical dilemmas.
Movie Info
Director Roger Michell follows up the hit romantic comedy Notting Hill (1999) with this thought-provoking thriller. Ben Affleck and Samuel L. Jackson star, respectively, as Gavin Banek and Doyle Gibson, two New York men whose lives become accidentally intertwined in a Good Friday fender bender on the FDR Drive. Late for a crucial appointment, hotshot lawyer Gavin tosses Doyle a blank check and leaves the scene, while Doyle, whose car is inoperable, is late for a court-appointed custody hearing. A recovering alcoholic, Doyle's tardiness doesn't sit well with the judge, who - sick of waiting for Gipson - grants custody to Doyle's ex-wife in Doyle's absence. The situation worsens when it becomes evident that Doyle has an equally important file belonging to Gavin, which proves that an elderly man gave Banek's firm power-of-attorney over his foundation. So begins an escalating war of words and deeds between the two men. Soon, egged on by an associate (Toni Collette), Gavin hires a "fixer" (Dylan Baker) to destroy Doyle's credit, forcing Doyle to fire back with some cunning moves of his own. Changing Lanes co-stars William Hurt, Sydney Pollack, and Toni Collette.
News & Interviews for Changing Lanes
Critic Reviews for Changing Lanes
Audience Reviews for Changing Lanes
½
Changing Lanes keeps you on your toes with a tense screenplay that does not let up until the final scenes when everyone is tidied up a little too well after all the chaos that ensued. Samuel L. Jackson is terrific as usual and rides the line between doing what he needs for his family and crossing that line. Ben Affleck is better in these roles than he is in the action role, playing a hotshot lawyer that realizes all the unethical crap he pulls will eventually catch up to him. I was actually expecting this to have more action than it did based on the title and previews, but I'm not complaining when it was this well done. Ultimately, the only knock I have is that the conclusion is a little too easy based on the rest, but Changing Lanes will keep you guessing and is entertaining.
Josh Lewis
Super Reviewer
½
"Changing Lanes is a good thriller. It's original and gives two great performances from Jackson and Affleck. Gavin Banek and Doyle Gipson happen to literally run into each other on a very important day of their lives. This run in ruins their important day which engulfs them into a day filled with vengeance and chaos. Their back and forth tit for tats end up leaving them both feeling horrible for the things they just did to each other. But yet the hits keep coming and with every hit one gets the other hits back harder. There is no winner. No evil winning over good. They are both deep down good people. This is a perfect example of how good people can be pushed to do awful things when certain lines are crossed. The ending was satisfying and I really enjoyed the movie. I'm not sure if I would see this again. Although I enjoyed it, there wasn't enough action for me considering this was a thriller. Still a solid thriller though."
♥˩ƳИИ ƜѲѲƉƧ♥
Super Reviewer
Another great suggestion from Mr. Tim Ryan. If you thought that Sam Jackson made his money by cursing really loudly on camera, check out this movie him actually acting, really really well. A suspenseful dogfight that subtle asks questions about the nature of humanity, I found myself actually stressed out -- and therefore interested -- about how it would all end. Although well-made, there are some pacing problems in the movie that prevents it from being a truly great drama, but definitely one worth putting on your Want-To-See list.
Jason Robinson
Super Reviewer
Changing Lanes Quotes
There are no approved quotes yet for this movie.