Chaos
(2003)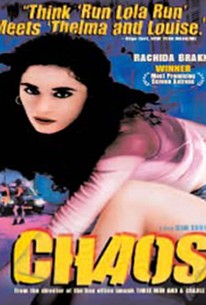 TOMATOMETER
AUDIENCE SCORE
Critic Consensus: Anything but chaotic, Chaos makes a high-energy and award-worthy stab at bourgeois apathy and racial tensions in France, while musing on chance.
Movie Info
After she and her husband witness the savage beating of a prostitute but do nothing to stop it, Hélène (Catherine Frot) is wracked with guilt. She traces the prostitute, named Malika, to a hospital, where Malika lies comatose. Hélène soon commits herself to helping Malika recover, and in the process grows distant from her husband and son. The situation is further complicated when the men who beat Malika return to find her, intent on finishing the job they began. Soon, Hélène finds herself caught up in deadly underworld politics that she cannot begin to comprehend.
Audience Reviews for Chaos
[font=Century Gothic]"Chaos" starts out with an affluent Parisian couple, Paul(Vincent Lindon) and Helene(Catherine Frot), rushing off to a dinner party.(By the way, their son, Fabrice is a bit of a pig...) They come across Noemie(Rashida Brakni) running towards their car on the street. She is desperately seeking help, but Paul locks the doors on the car. They watch as she is brutally beaten. Helene wants to call for an ambulance but Paul is much more worried about the blood on the windshield and does not want to be involved. Helene seeks out Noemie in the hospital, who is in a coma. And Helene remains to take care of her...[/font] [font=Century Gothic][/font] [font=Century Gothic]"Chaos" is a smart, unpredictable thriller that never stops. It occasionally takes on a comic tone as it gracefully balances the main plot with the household scenes. The film also has some very important things to say about how women can be taken for granted and how we are all responsible for each other. Unlike "Run Lola Run", this movie contains people who rush around without anything vital being involved. And, of course, cell phones do not bring us any closer...[/font]
Chaos Quotes
There are no approved quotes yet for this movie.