The Steam Experiment (The Chaos Experiment)
(2009)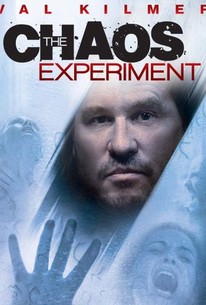 AUDIENCE SCORE
Critic Consensus: No consensus yet.
The Steam Experiment (The Chaos Experiment) Photos
Movie Info
Ridiculed and dismissed by his contemporaries due to his outrageous warnings about the dangers of Global Warming, a once-respected professor and academic hatches a deadly experiment designed to prove his theories in this thriller starring Val Kilmer and Armand Assante. James Pettis is a man on the brink. After publishing a pair of alarmist books claiming that Global Warming would hasten the collapse of humanity and bring about the end of the world as we know it, Pettis the laughing stock of the academic community. But even after losing everything, Pettis remained convinced that his theories were sound. Then, one day, Pettis bursts into the Tampa Tribune claiming that he can prove his hypothesis in no uncertain terms. In a bit to regain his status in the Global Warming community, Pettis has set up an experiment: six unsuspecting people have been lured into a "Steam Room" where the temperature will gradually rise, providing undeniable proof of Pettis' theory that rising temperatures on the planet's surface would send humanity spiraling into chaos. Should the Tampa Tribune fail to print his theories on the front page of their next edition, Pettis' unwitting lab rats will die a slow and excruciating death. Now it's up to Detective Jack Mancini to figure out whether Pettis is bluffing, or if he actually put the lives of innocent civilians in danger in a mad bid to prove his point about the dangers of Global Warming. But Detective Mancini has only two hours to discern whether the "Steam Room" is indeed real, or the manipulative creation of a delusional psychopath: does his risk his life and the lives of others to rescue people who may only exist in Pettis' mind, or does he take the madman at his word and do everything in his power to appease him? The clock is ticking, and the only way out of this deadly maze is for Detective Mancini to engage in an intellectual game of cat-and-mouse against an opponent who truly has nothing left to lose. Eric Roberts and Patrick Muldoon co-star.
Critic Reviews for The Steam Experiment (The Chaos Experiment)
Audience Reviews for The Steam Experiment (The Chaos Experiment)
A demented professor wants to prove the effects of global warming by locking six people in a Turkish steam room, which only proves that he is one of the most stupid villains ever. But the only thing more baffling than this ridiculous premise is the movie's awful development.
Carlos Magalhães
Super Reviewer
What a movie to return on. Sorry for the extended absence. Val Kilmer threatens to kill hostages locked in a steam room unless a newspaper prints his theory on global warming. Armand Assante is the main detective, who may be the worst detective in the history of detectives. Not to go unmatched, Val Kilmer plays the worst evil genius I've ever seen. As best I can tell, this was made as an excuse to show partial nudity and Kilmer making crazy faces at the end. I could care less about any of the hostages. There is a twist of sorts at the end that makes no sense. Absolutely terrible.
½
Along the same sort of lines as 'Saw' with its 'people trapped inside a room' for the entire film, it does have some eerie and tense performances which do make you feel trapped and nervous whilst watching the film but the plot is so disjointed and senseless that it ruins a possible winner. The cast is a reasonable ensemble with Kilmer, Assante, Eric Roberts and Pat Muldoon, with the idea of trapping people in a sauna to fry slowly to death is quite good, like I said it worked for 'Saw', but the director clearly strings the film out to fill time. Some sequences are quite good and make you feel the heat but others are overdrawn and tend to jump from normality to not making sense very quickly. The ending really frustrates as you don't really know what has happened, was it in real time? the past? did it ever happen? was it just a dream or weird fantasy by Kilmer's character?? you could say that making you think is a good ending but this just annoys you because you wanna know damn it!
Phil Hubbs
Super Reviewer
The Steam Experiment (The Chaos Experiment) Quotes
There are no approved quotes yet for this movie.