Chaplin
(1992)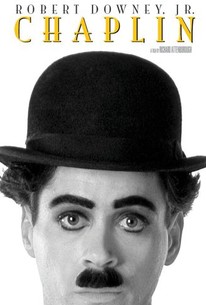 TOMATOMETER
AUDIENCE SCORE
Critic Consensus: Chaplin boasts a terrific performance from Robert Downey, Jr. in the title role, but it isn't enough to overcome a formulaic biopic that pales in comparison to its subject's classic films.
Movie Info
Robert Downey, Jr. gained widespread praise for his uncanny performance as the legendary Charlie Chaplin in this otherwise disappointing biography. Told in flashback, the film consists of Chaplin's responses to questioning by fictional publisher George Hayden, who wants to know about the parts left out of the legend's autobiographical book.
Critic Reviews for Chaplin
Audience Reviews for Chaplin
½
A stupendous biopic centered on the life of the perfectionist genius obsessed with his work that was Charles Chaplin, and it boasts a spectacular production design, a marvelous script, a beautiful score and Robert Downey Jr. in one of his most amazing performances.
Carlos Magalhães
Super Reviewer
½
Robert Downey jr. brings Charlie Chaplin to life in this near flawless biopic, Chaplin. Chaplin tells the story of the first Hollywood icon, Charlie Chaplin. Robert Downey jr. delivers as the famed actor. He gives a stunning, perfect performance of this icon of cinema. Chaplin is one of the best biopics I've seen in quite some time. There is a good mix of humor and drama in this story. The film recounts some of the greatest moments in Charlie Chaplin's life, such as his debut in silent films, the release of his legendary The Great Dictator and his welcomed return to Hollywood. Chaplin is a well crafted biopic that has superb performances. I thought that this was a terrific film, and I don't understand why the film has gotten so much criticism. I felt like this was a great film that really captured the essence of this troubled genius. This film is another example as to why film critics are wrong. Downey Jr's performance was flawless and he really delivered something special on-screen. You looked at him, and you saw Charlie Chaplin. If you're looking for a terrific biopic, Chaplin is the one. I've seen many films based on the lives of famous people, and Chaplin is one of the better biopics around. This is a brilliant film that really delivers something great for the viewer. I thoroughly enjoyed this film, and I'm sure every die-hard Charlie Chaplin fan will enjoy Robert Downey jr.'s performance as the Little Tramp. A wonderful picture.
Not a huge success upon release and I'm not really sure why as this lavish epic is thoroughly interesting, charming and well made. Taken a from a point of narration by Chaplin during an interview with a fictional character played by Hopkins the film simply takes you through Chaplin's life from one event to another although with many gaps. I'm not completely up with the life of Charlie but I have read that the film does take artistic license with the truth and of course skips allot of history. This really can't be faulted as my personal view from someone who knows very little about his life is 'does that matter?' The film shows much of his upbringing from the dirty streets of Victorian London to his first jobs in the US, his breaking through into the business, becoming rich and world famous and his problems upon returning to the UK after the the first World War. Most of his big films are also covered in the bio and show just how much swing he had during his reign, the issue he had with controversial ideas and how his close friendships with top stars of the time like Doug Fairbanks helped him. The film looks excellent in every sense and every scene but clearly the main attraction is Downey Jr and his portrayal of Chaplin. Not only does he genuinely look like Charlie but he manages to mimic the moves, walk, facial expressions and even the comedic slapstick Charlie amazed us with in his movies. To watch Downey making the classic films within the main film you would actually think Chaplin was still alive today starring in his own bio, amazing work to get it right. Other cast members all add to the superb film both in their looks and portrayals, an amazing line up of known stars from both the US and the UK ranging from Dan Aykroyd to Diane Lane to John Thaw to Milla Jovovich. Kevin Kline is probably one of the better casting choices as he really does seem to belong in that kind of era, born at the wrong time methinks hehe and his lovely showcase as Fairbanks shows this. As with any film of this nature some sequences are maybe over the top and heavy handed to create that teary eyed emotion but I guess that is to be expected and required to a degree. Never the less a worthy film from Attenborough that has been forgotten and easily sits in the top twenty of all time bio pics.
Phil Hubbs
Super Reviewer
Chaplin Quotes
| | |
| --- | --- |
| Charlie Chaplin: | The tramp can't talk. The minute he talks, he's dead. |
| | |
| --- | --- |
| Charlie Chaplin: | Do you want to know me? Just watch my all Movies. |
| Charlie Chaplin: | If you want to understand me, watch my movies. |
| | |
| --- | --- |
| Charlie Chaplin: | As you've already said, Mr. Hoover... movies are for the people.. Most people work for a living and don't make very much. It pleases them to see officials and the upper class kicked on the backside. |
| Charlie Chaplin: | As you've already said, Mr. Hoover, movies are for the people. Most people work for a living and don't make very much. It pleases them to see officials and the upper class kicked on the backside. |
| | |
| --- | --- |
| Sydney Chaplin: | You don't have to be great. Just shut up and be funny. |