Chappaquiddick
(2018)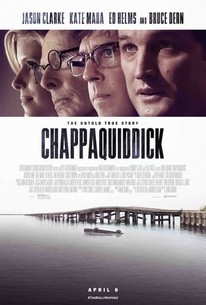 TOMATOMETER
AUDIENCE SCORE
Critic Consensus: Chappaquidick can't help leaving some of this true story's most intriguing questions unanswered, but it's bolstered by outstanding work from Jason Clarke in the central role.
Movie Info
In the riveting suspense drama, CHAPPAQUIDDICK, the scandal and mysterious events surrounding the tragic drowning of a young woman, as Ted Kennedy drove his car off the infamous bridge, are revealed in the new movie starring Jason Clarke as Ted Kennedy and Kate Mara as Mary Jo Kopechne. Not only did this event take the life of an aspiring political strategist and Kennedy insider, but it ultimately changed the course of presidential history forever. Through true accounts, documented in the inquest from the investigation in 1969, director John Curran and writers Andrew Logan and Taylor Allen, intimately expose the broad reach of political power, the influence of America's most celebrated family; and the vulnerability of Ted Kennedy, the youngest son, in the shadow of his family legacy.
News & Interviews for Chappaquiddick
Critic Reviews for Chappaquiddick
Audience Reviews for Chappaquiddick
½
Based on a true story, Chappaquiddick is a powerful political drama. The story follows a weekend party hosted by Senator Ted Kennedy on Chappaquiddick Island during which he got into a car accident that killed a young girl who was riding with him, and the ensuing cover-up and battle within the Kennedy family on how to handle the situation. Starring Jason Clarke, Ed Helms, Kate Mara, and Bruce Dern, the cast is quite impressive and gives some good performances. And surprisingly the film doesn't whitewash the events; showing the political wheeling and dealing behind the scenes. Yet it also shows the moral questioning and personal struggle Ted Kennedy goes through. Additionally, the sets and costumes are really well-done, and feel authentic to the time period. A fascinating biopic, Chappaquiddick is extraordinarily compelling and provocative.
Dann Michalski
Super Reviewer
½
The moon looms in so many of the shots here just as it did in the news cycle during that 1969 July when Senator Edward Kennedy drove off a bridge, killing his passenger. His first words after the accident are: "I'm not going to be president." How Chappaquiddick might hold up against history is uncertain, but director John Curran (The Painted Veil) swiftly clarifies what he and the writers believe to be the answers to questions that have no doubt plagued the incident since that fateful night. How did Kennedy end up driving off the bridge? Was he drunk? What were he and Mary Jo Kopechne doing together that night? Was there a third person in the car? Why did he wait so long to report the accident? There is no hesitation to paint Kennedy into an unflattering corner with Ed Helms as conflicted Kennedy cousin Joseph Gargan being a highlight. Gargan's struggles and position within his famous family are what illustrate what it seems Chappaquiddick is truly trying to get at; that the Kennedy's never held themselves to the same laws as those they felt they were meant to serve. That somehow, because they lived a life of service they were exempt from the same standards. It's an interesting if not obvious thesis, but I wish it was explored in a deeper and more moving manner as Curran's film feels very much like a CliffsNotes version of a much bigger story.
Philip Price
Super Reviewer
Chappaquiddick Quotes
There are no approved quotes yet for this movie.