Charlie and the Chocolate Factory
(2005)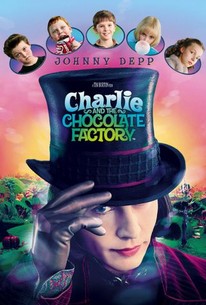 TOMATOMETER
AUDIENCE SCORE
Critic Consensus: Closer to the source material than 1971's Willy Wonka & the Chocolate Factory, Charlie and the Chocolate Factory is for people who like their Chocolate visually appealing and dark.
Charlie and the Chocolate Factory Photos
Movie Info
Director Tim Burton brings his unique vision and sensibility to Roald Dahl's classic children's story in this lavish screen interpretation. Willy Wonka (Johnny Depp) is the secretive and wildly imaginative man behind the world's most celebrated candy company, and while the Wonka factory is famously closed to visitors, the reclusive candy man decides to give five lucky children a chance to see the inside of his operation by placing "golden tickets" in five randomly selected chocolate bars. Charlie Bucket (Freddie Highmore), whose poor but loving family lives literally in the shadow of the Wonka factory, is lucky enough to obtain one of the tickets, and Charlie, escorted by his Grandpa Joe (David Kelly), is in for the ride of a lifetime as he tours the strange and remarkable world of Wonka with fellow winners, media-obsessed Mike Teavee (Jordan Fry), harsh and greedy Veruca Salt (Julia Winter), gluttonous Augustus Gloop (Philip Wiegratz), and ultra-competitive Violet Beauregarde (AnnaSophia Robb). Over the course of the day, some of the children will learn difficult lessons about themselves, and one will go on to become Wonka's new right hand. Charlie and the Chocolate Factory also stars Christopher Lee, James Fox, and Noah Taylor; the book was famously adapted to the screen before in 1971 under the title Willy Wonka and the Chocolate Factory, with Gene Wilder as the eccentric candy tycoon. ~ Mark Deming, Rovi
Critic Reviews for Charlie and the Chocolate Factory
Audience Reviews for Charlie and the Chocolate Factory
I've admitted that "Willy wonka and the Chocolate Factory" is one of my top 20 favorite films, so when I heard they were going to remake it, I got a bit skeptic, but I still saw it anyway, and overall, it was okay, its nowhere near classic, and Tim Burton has made much better films than this, but its a decent film overall. The acting is okay, the songs are catchy as hell and very creative, and the plot follows the book a bit closer.
Michael Edwards
Super Reviewer
½
Because so much in Tim Burton's films stems from his vivid imagination, his films are highly personal, love-hate affairs. If you love one first time round, you'll want to see it again along with everything else he's made. If you hate it, or are simply bored by it, you'll resist seeing the film a second time. But in the case of Charlie and the Chocolate Factory, a second viewing could just be the key to appreciating it, and - perhaps more importantly - understanding what makes Burton so magical. Comparisons were obviously going to be drawn between this and the 1971 adaptation, starring Gene Wilder. The first version made several changes from the book (like making the Oompa Loompas orange rather than pygmies) and was famously disowned by Roald Dahl himself. This version remained in development hell for over a decade while various directors, screenplays and leading men were presented to the Dahl estate, and all of them were refused. It's therefore a given that, with the Dahl estate on board, this adaptation is the closest possible to the original story. Fans of the book will revel in the casting of the child actors, and Freddie Highmore in particular, who are well-accomplished and seem born to play their characters. Some liberties are taken of course, but unlike the earlier version, they by and large compliment the narrative. The dark back-story, with Willy Wonka's father being a dentist who forbids him from eating chocolate, works because it broadens out the character of Wonka. It prevents him from being just another English eccentric, and with the new denouement of the film, we actually start to sympathise with him rather than simply finding him a little freaky. When it comes to Wonka himself, there is no-one better to play him than Johnny Depp. For all of Wilder's charm and comic ability, Depp manages to tap into the nub of Wonka's demons, vocalising them in that voice which is alternately jittery and flamboyant, and in a physical manner which is both creepy and charming. Comparisons with Michael Jackson, however, are barking up the wrong tree; Depp's portrayal is by his own admission closer in character to that of Howard Hughes. His Wonka, like Hughes, is a man with a singular love, a love to which he has dedicated his life and which threatens to consume him now he is ageing. There are fine performances through the rest of the adult cast. Noah Taylor, still most famous for his cameo in Vanilla Sky, is convincing as Charlie's father, while Helena Bonham Carter is reigned in by her fiancée to give a subtle turn as the mother. David Kelly and Liz Smith are entertaining as two of the grandparents, and Missi Pyle is the most interesting (and appealing) of the spoilt children's parents. And of course, one must not overlook the deadpan Deep Roy as every single one of the Oompa-Loompas. If there is a flaw with Charlie and the Chocolate Factory, it is that there is so much visual delight, so much going on on the surface, that the viewer may start to grow suspicious that there is nothing underneath. The rich and camp colour scheme - which make the factory look like the Joker's lair - is so overpowering that it threatens to obscure the moral points of the film. Burton is therefore wise to include enough scenes and snippets of dialogue to bolster the film's warnings against excess and selfishness. Whether in the invasion of the stores to find the golden tickets, or the piquant one-liners emanating from the children, this film has its eyes on the prize - so much so that we even forgive Burton for the highly sentimental last line. The only other flaw with this film is the songs. Burton's close relationship with Danny Elfman has led some critics to believe that all of his films are essentially musicals. Sure enough, Elfman serves up another captivating score over the excellent opening credits. But the puppet scene upon entering the factory grounds manages to be downright toe-curling. And while the Oompa-Loompas sing lyrics written by Dahl himself, they are produced and processed in such a way that we cannot understand them. It's like dressing the Teletubbies in bondage gear and watching them through a kaleidoscope. For all these little flaws, Charlie and the Chocolate Factory remains one of Burton's best films. Like Batman Returns and Sleepy Hollow before it, the niggling little flaws in either the script or the execution of certain scenes are more than compensated for by the overall quality. The result is a visual delight with a deep moral root, a charming children's story which marries the darkness of Dahl's original to the gothic majesty that Burton has been honing since Beetlejuice. On first viewing, the visuals and altered ending may throw you off. But by persevering, and revisiting, disappointment can be avoided.
Daniel Mumby
Super Reviewer
½
Tim Burton's version of Roald Dahl's classic work is pretty a copy of the 1971 film starring Gene Wilder, and it just doesn't deliver. In fact, I found this to be among the worst of Tim Burton's films. In the lead role of Willy Wonka is Johnny Depp, who is always great in very off the wall eccentric characters, but here he is out of place, and just doesn't cut. I found this be a dull, boring film, one that tried too hard at putting new life into a classic story. The end result is a train wreck of a film, one that just doesn't offer anything new or exciting. I guess you can say that this is a remake, and in that regards, it's a horrible one, and it joining countless other movies that have been butchered by remakes. Burton has made some great films, but Charlie and the Chocolate Factory ranks among his worst with Planet of the Apes. I thought that this film relied more on visuals and effects to try and entertain, while the original grabbed your attention with memorable performances, well executed storytelling and charm. This tries too hard at delivering an entertaining ride by cramming way too much into the film, and overdoing everything. The finished film just doesn't deliver anything memorable and it ends up being a waste of time. Don't expect anything good with this film. Stick with the 1971 film, it is a far superior picture and it has a much better cast and it doesn't overdo anything like this one did. This one just has nothing to really grab your attention. Tim Burton is talented, but he just doesn't pull off anything fun, entertaining and ultimately memorable with his version of Charlie and the Chocolate Factory.
Charlie and the Chocolate Factory Quotes
| | |
| --- | --- |
| Willy Wonka: | You can't run a chocolate factory with a family hanging over you like an old, dead goose. No offense. |
| Grandpa George: | None taken. ...Jerk. |
| | |
| --- | --- |
| Dr. Wonka: | Everything in this room is eatable, even I am eatable! But that is called cannibalism and is in fact frowned upon in most societies. Yeah, Enjoy! |
| | |
| --- | --- |
| Mrs. Beauregarde: | How is she supposed to compete? |
| Veruca Salt: | You could put her in a county fair. |
| | |
| --- | --- |
| Mrs. Beauregarde: | Violet! You're turning... violet! |