Charlie Bartlett
(2007)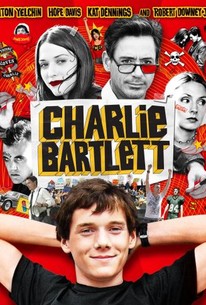 TOMATOMETER
AUDIENCE SCORE
Critic Consensus: With engaging performances marked by an inconsistent tone, Charlie Bartlett is a mixed bag of clever teen angst comedy and muddled storytelling.
Movie Info
Longtime film editor Jon Poll (Meet the Fockers and Austin Powers in Goldmember) makes his directorial debut with this coming-of-age comedy about a wealthy public school system newcomer (Anton Yelchin) who wins over his skeptical classmates by serving as a surrogate psychiatrist to the troubled student body. Robert Downey Jr., Hope Davis, and Kat Dennings co-star.
Critic Reviews for Charlie Bartlett
Audience Reviews for Charlie Bartlett
[img]http://images.rottentomatoes.com/images/user/icons/icon13.gif[/img]
Directors Cat
Super Reviewer
A fun but rather annoying film that doesn't really give much to the audience. More aimed at teenage girls, I'd recommend it simply down to Yelchin and Downey Jr's performances.
Sophie Burgess
Super Reviewer
Charlie Bartlett: Oh trust me doc, bringing psychiatric drugs and teenagers together is like opening a lemonade stand in the desert.  "Popularity is a state of mind." I am extremely pleased with Charlie Bartlett. Not that I am surprised I liked it so much, as I am a huge fan of both Anton Yelchin and Robert Downey Jr., and the premise was awesome. Sure there were plot elements that were less than unlikely and scenes that really turned up the melodrama for no particular reason, but for the most part it was a really good set in high school movie. Charlie Bartlett gets kicked out of his fancy private school for selling fake ID's and must go back to his huge mansion with his mother and attend public school. Charlie less than fits in with the kids at this new school, so he tries to fins a way to win them over. He chooses drugs. All kids want to get high and that is his way to get popular and also make some cash on the side. Then he starts offering psychiatric help for all the kids in his school in the bathroom. The principal isn't very fond of him and that is heightened when Charlie and his daughter start hanging out. I thought the film was extremely cool and had a pretty good concept. I like the idea of a kid no one likes finding a way to become the cool kid. Yeah it has been done before, but never like this. Yelchin owns every role he's ever had. Not once have I seen him in a movie and not been totally impressed and convinced by his performance. That is saying quite a bit since he started young. It doesn't look like he is going to fade out like some young actors do, at least I hope not. The movie has some fun sequences and some insightful ones. The insightful ones are a little overdone, I'll admit; and yeah, there are some incredibly cliched characters. But come on, high school is one big cliche and all the characters in this film really exist in just about every high school in the world. Overall the film works because of its cool premise and two actors who nail their roles. 
Melvin White
Super Reviewer
Charlie Bartlett Quotes
| | |
| --- | --- |
| Marilyn Bartlett: | Well maybe there's more to high school than being well liked. |
| Charlie Bartlett: | Like what specifically? |
| Marilyn Bartlett: | ... Nothing comes to mind. |
| | |
| --- | --- |
| Henry Freemont: | This is a school not a prison! |
| Principal Gardner: | Thanks, because I couldn't read the sign. |
| | |
| --- | --- |
| Dr. Stan Weathers: | You don't feel normal? |
| Charlie Bartlett: | My Family has a psychiatrist on call, how normal can I be? |
| | |
| --- | --- |
| Charlie Bartlett: | Viagra! Virgin! Vino! Vagabond! Vagina! |