Charlie Chaplin's Burlesque on Carmen
(1916)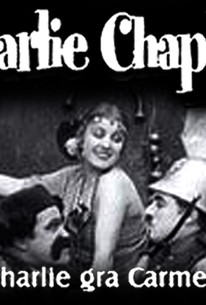 AUDIENCE SCORE
Critic Consensus: No consensus yet.
Movie Info
Burlesque on Carmen was intended by Charlie Chaplin to be a two-reel film, but to his annoyance additional material, shot by Leo White and featuring Ben Turpin, was added for its release after Chaplin left Essanay. It is a parody of two contemporary films based on Bizet's opera, by Cecil B. De Mille (starring opera star Geraldine Farrar) and Raoul Walsh (starring vamp Theda Bara). Chaplin plays Darn Hosiery (Don Jose) the Corporal of the Guard who is seduced by Carmen (engagingly played by Edna Purviance) so that Gypsy smugglers can get their swag through the city gates. His chief rivals for Carmen's affections are Escamillo, the Toreador and a fellow soldier of the guard, Leo White. The interjection of the Turpin sections and the use of outtakes of the Chaplin material makes the plot rather murky. Don Jose is charmed by Carmen and ignores his military duties. He allows the smugglers to enter the city gates but other guards, alerted by his rival White, give chase. Later, as the guards and gypsies struggle at a village gate, Don Jose gets into a duel for Carmen's attentions with White, during which Don Jose engages in some Chaplinesque fencing and wrestling, but aided by Carmen he kills White. Realizing the depth of his deed he pursues Carmen who has taken off out a window. He catches up with her, but the Toreador interrupts his accusations and takes Carmen away. Sometime later they are seen arriving at the bull ring. Don Jose catches up with Carmen and, playing it perfectly straight, he chillingly accuses her of infidelity and when she mocks his love, he stabs her and then himself. They are discovered by the Toreador, but Don Jose revives, mule kicks Escamillo back into the arena and picks up Carmen who also comes back to life. Looking into the camera, they smilingly show the audience the collapsible knife as the camera irises in.
Critic Reviews for Charlie Chaplin's Burlesque on Carmen
Audience Reviews for Charlie Chaplin's Burlesque on Carmen
Fine sequences in which Charlie Chaplin embroiled in an extended sabre duel with a rival, poses lackadaisie-ally amidst the clashing weapons. In the final scene is quite alike story of Othello.
Dean McKenna
Super Reviewer
Charlie Chaplin's Burlesque on Carmen Quotes
There are no approved quotes yet for this movie.