Charlie St. Cloud
(2010)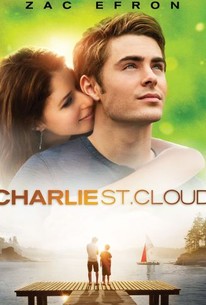 TOMATOMETER
AUDIENCE SCORE
Critic Consensus: Zac Efron gives it his all, but Charlie St. Cloud is too shallow and cloying to offer much more than eye candy for his fans.
Movie Info
Accomplished sailor Charlie St. Cloud has the adoration of mother Claire and little brother Sam, as well as a college scholarship that will lead him far from his sleepy Pacific Northwest hometown. But, his bright future is cut short when a tragedy strikes and takes his dreams with it. After his high-school classmate Tess returns home unexpectedly, Charlie grows torn between honoring a promise he made four years earlier and moving forward with newfound love. And, as he finds the courage to let go of the past for good, Charlie discovers the soul most worth saving is his own.
News & Interviews for Charlie St. Cloud
Critic Reviews for Charlie St. Cloud
Audience Reviews for Charlie St. Cloud
½
Directed by Burr Steers, Universal Pictures, 2010. Starring Zac Efron, Kim Basinger, Charlie Tahan and Ray Liotta. Genre: Fantasy, Romance, Drama Question: How many child stars grow up and prove they are actually legitimate actors? There are a handful of names that pops to mind: Jodie Foster, Shia LaBeouf, and Kurt Russell. But I might need to add one to that list now: Zac Efron. Yes, I am serious. This past weekend I watched Charlie St. Cloud - actually for the second time. I saw it last summer when it was in the theaters but I wasn't reviewing movies back then. Well, at least I wasn't writing down my reviews. I enjoyed the movie then and found it just as quaint this weekend mainly because of Zac Efron and his performance. Now I was introduced to the singing, dancing actor through a not-so-thrilling venue (well, not thrilling for moi): High School Musical. My daughter was obsessed with this movie when she was five (now nine) so I listened to that movie and the songs over and over and over again. Zac Efron was the star of that movie and my daughter thought he was sooooo cute. Hey, I had some celebrity crushes too that my mother didn't quite understand. Fast forward four years and Zac Efron is all grown up and starring in Charlie St. Cloud. The movie starts out with him and his little brother in a sailing race. We soon find out that their family doesn't have the means to really support his sailing dreams but luckily he had received a sailing scholarship to go to college. But even though he has only a summer left before college Charlie likes spending time with his little brother: teaching him the fundamentals of baseball and sharing his older brotherly advice. He and his brother are very close even though they are six years a part. Now where the story goes from here should remain a mystery if you have not seen it yet. The story takes a sudden and heartbreaking turn that had me in tears (again). There is an unbreakable bond between these two brothers, Charlie (Zac Efron) and Sam (Charlie Tahan). Charlies ends up living with certain consequences that forces him on a different path. But he remains loyal to his little brother. What surprised me most about this film was the main actor. He really had to portray some powerful emotions and he did that quite well. There are many close-up shots of the blue-eyed young adult that will have all the young girls swoon. Except my daughter: she came in during the movie. She asked if that was Zac. I nodded. She replied "He so old now" and she walked away. Guess you could say she is over that crush. Anyway, I will say it again. This is a quaint movie with a sweet tale about brotherly love that may be worth your time. I believe Zac Efron will go on to do some pretty wonderful performances in the future. My favorite thing: I have to say it: Zac Efron. My least favorite thing: They did try a little too hard to push the boundaries of a believable story. Random thought: This isn't my only review of one of Zac Efron's performances: Me and Orson Wells. Rating: PG-13 Length: 99 minutes Review: 5 out of 10
Tired of Previews
Super Reviewer
½
I liked Zac Efron's character over here. Although the movie seemed okay to me but the story was really good.
Dead Angel
Super Reviewer
I love this movie! :) It was also nice to see Zac Efron in a non disney role for a change as well. Definitely check this movie out & the little boy, Sam (Charlie Tahan) was adorable and great in this movie as well as Tess Carroll (Amanda Crew). Definitely a movie that I plan to watch again :) Don't skip this great, and incredible movie :) I even have While We Were Dreaming on my ipod so I can think of this movie every time I listen to it :) Now I own it on dvd :) Such a beautifully touching movie :) :) :)
Cassie Hill
Super Reviewer
Charlie St. Cloud Quotes
| | |
| --- | --- |
| Sam St. Cloud: | You hurt because you're alive. |
| | |
| --- | --- |
| Claire St. Cloud: | We'll always be Brothers... |
| | |
| --- | --- |
| Sam St. Cloud: | Nobody ever gets to see what could have been. |