Charlie Wilson's War
(2007)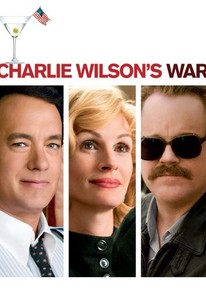 TOMATOMETER
AUDIENCE SCORE
Critic Consensus: Charlie Wilson's War manages to entertain and inform audiences, thanks to its witty script and talented cast of power players.
Charlie Wilson's War Videos
Charlie Wilson's War Photos
Movie Info
Charlie Wilson was a bachelor congressman from Texas who had a habit of showing up in hot tubs with strippers and cocaine. His "Good Time Charlie" exterior, however, masked an extraordinary mind, a deep sense of patriotism and a passion for the underdog, and in the early 1980s the underdog was Afghanistan-which had just been brutally invaded by the Russians. Charlie's longtime friend and patron and sometime lover was Joanne Herring, one of the wealthiest women in Texas and a virulent anti-communist. Believing the American response to the Russian invasion was anemic at best, she prods Charlie into doing more for the Mujahideen (Afghan freedom fighters). Charlie's partner in this uphill endeavor is CIA Agent Gust Avrakotos, a blue-collar operative in a company of Ivy League blue bloods. Together, the three of them-Charlie, Joanne and Gust-travel the world to form unlikely alliances among the Pakistanis, Israelis, Egyptians, arms dealers, law makers and a belly dancer.Their success was remarkable. Funding for covert operations against the Soviets went from $5 million to $1 billion annually. The Red Army retreated out of Afghanistan. When asked how a group of peasants was able to deliver such a decisive blow to the army of a superpower, Pakistani President Mohammad Zia ul-Haq responded simply, "Charlie did it."
News & Interviews for Charlie Wilson's War
Critic Reviews for Charlie Wilson's War
Audience Reviews for Charlie Wilson's War
It's not an exceptional film, however the real-life story it depicts is interesting enough and the performances are generally strong, particularly that of Philip Seymour Hoffman.
Matthew Samuel Mirliani
Super Reviewer
½
A hedonistic womanising congressman from Texas seems to be the only person on Capitol Hill who realises the full implications of the Soviet invasion of Afghanistan and sets about ensuring the US gives its support to the freedom fighters of the Mujahideen. The Aaron Sorkin penned script based on actual events shares a lot of elements with his flagship TV series The West Wing. The combination of politics and drama with amusingly quirky characters and witty, fast talking dialogue will be very familiar to fans and a collection of fine performances all round make for a very entertaining piece of historical edutainment. Inevitably it all seems quite rose-tinted in its depiction of the role of the US but Sorkin's edgy dialogue always keeps one eye on the hypocrisy and duplicity of American politics and the timing of the project is surely no coincidence. It would have made for a much weightier experience if it had continued the commentary through to its natural conclusion concerning where Afghanistan found itself once America had got what it wanted, but Sorkin does at least touch on the subject at the last gasp. Witty, smart and consistently entertaining, Charlie Wilson's War is well worth watching if only for the great Philip Seymour Hoffman's show stealing turn as the wise cracking, no-nonsense CIA analyst.
Director Mike Nichols and writer Aaron Sorkin are no strangers to political satire. Charlie Wilson's War is simply fantastic. It's funny and incredibly well written. But the real disturbing elements emerge in the films final ten minutes, when you realize exactly how dangerous America's meddling into world affairs has become.
Edward Boxler
Super Reviewer
Charlie Wilson's War Quotes
| | |
| --- | --- |
| Charlie Wilson: | You did a hell of a job for the son of a soda pop maker. |
| Gust Avrakotos: | "We'll see", said the Zen master. |