Charlie's Angels
(2000)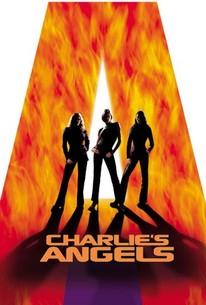 TOMATOMETER
AUDIENCE SCORE
Critic Consensus: Mixing tongue-in-cheek cheesecake with glossy action set pieces, Charlie's Angels is slick and resonably fun despite its lack of originality.
Movie Info
They're beautiful, they're brilliant, and they work for Charlie. In a smart, sexy update of the 70's TV show, "Charlie's Angels" revolves around three female detectives - Natalie the bookworm, Dylan the tough girl, and Alex the class act - as intelligent and multi-talented as they are ravishingly gorgeous and utterly disarming. What can be done when Eric Knox, a soon-to-be billionaire, is kidnapped from his own office at Knox Technologies, and the company is in jeopardy of losing a million dollars? Under the sure hand of their suave playboy boss, notorious for his clever ways of avoiding face-to-face meetings with his employees, the Angels use their feminine charm, high-tech gadgets and hand-to-hand combat to save themselves, Charlie, and thousands of innocent people.
Critic Reviews for Charlie's Angels
Audience Reviews for Charlie's Angels
½
Fun, cheesy, and helming some very dumb moments, "Charlie's Angel's" is a throwback to 90's action films, making this a very fun film to watch, even though it's completely ridiculous in almost every aspect. I must say that, growing up when I was younger, this was a movie I always watched, and recited almost every scene word for word, but I can't say I like this film even remotely as much now. It's farfetched, but in the best way possible. The dialogue is weak, the action is kind of lame sometimes, and the acting is quirky, but all of this mixed into one, with the premise it has, is good old fashioned fun. McG solidly directs this film, which has a weak script, which is kind of his forte. It's kind of annoying that he picks weak scripts really, but he makes this one work. "Charlie's Angels" is a lot of fun, not matter how stupid it really is!
You know what is a bad movie?.... well.... this is a bad movie... The only thing that a REALLY like was Bill Murray and Tim Curry.
Lucas Martins
Super Reviewer
½
Although the story isn't that engaging nor does it have any brains involved but the captivating cast members and action sequences are both very very thrilling.
Directors Cat
Super Reviewer