Charlie's Angels - Full Throttle
(2003)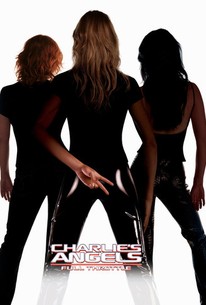 Charlie's Angels - Full Throttle Videos
Charlie's Angels - Full Throttle Photos
Movie Info
Drew Barrymore, Cameron Diaz, and Lucy Liu return alongside director McG for the sequel Charlie's Angels: Full Throttle. In this adventure, the Angels are assigned by Charlie to track down a pair of missing rings encoded with the names of every federal witness in the government's protection and relocation program. The women employ all of the skills seen in the first film in order to stop the bad guys (and bad girls). Bill Murray declined to appear in the sequel. The role of Bosley has been taken over by Bernie Mac. Demi Moore rounds out the cast of this big-budget spectacle.
Critic Reviews for Charlie's Angels - Full Throttle
Audience Reviews for Charlie's Angels - Full Throttle
It may not have the likability of the first, but the action is just as entertaining and the villains are just as satirical and funny to watch on screen. The Angels are back and they are ready for more. More sexy character show-off's and new side characters that kind of kickstart their feature film career through this film (mainly Shia Labeouf). The plot is dumber, the acting is weaker, the action is more preposterous, and the directing is becoming ham handed. This film marked the downward spiral for McG films to come. It's not a particularly bad movie, but it's not a good one either. The action is fine and the story is average, but nothing else really sticks out. It's more of the same, which is exactly the opposite of what I wanted from this film. "Charlie's Angel's - Full Throttle" is bigger and dumber, but it's still worth a watch!
nope. only see if u love Crispin
Coxxie Mild Sauce
Super Reviewer
The Full Throttle sequel is at best a slice of mindless escapism. The problem was that they focused so much on making the already attractive trio look even more sexy that the idea of a good plot and gripping action thrills were entirely forgotten in the process. Another problem was they had John Cleese. There was no point in having him because he wasn't able to do what he does best and thats make people laugh. He was just used as a sort of cameo. They should have had him in a much larger and funnier role. Of course the funny Bernie Mac shines as Bosley (Bill Murray's replacement) and brought some pretty good chuckles. But ultimately the film is just an excuse to see three talented and attractive actors half naked. The movie's hidden tagline is simply, "sex sells!". And unfortunately, it did sell pretty well.
Directors Cat
Super Reviewer
Charlie's Angels - Full Throttle Quotes
There are no approved quotes yet for this movie.