Charlotte Sometimes
(2003)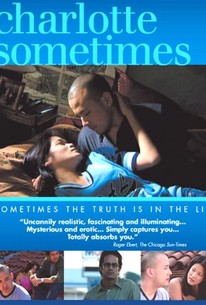 TOMATOMETER
AUDIENCE SCORE
Critic Consensus: Featuring an attractive young cast, Charlotte mostly shines as a portrait of the sexual frolics and hangups of L.A. Asian twentysomethings.
Charlotte Sometimes Photos
Movie Info
Four twentysomethings living in the hip L.A. suburb of Silverlake struggle with love, lust, and ennui in this independently produced feature, nominated for two 2003 Independent Spirit Awards. Taking its title from the Cure song of the same name, Charlotte Sometimes concerns the shadowy existence of Michael (Michael Idemoto) and Lori (Eugenia Yuan), next-door neighbors who form an intimate -- if sexless -- friendship. Lori, committed to her sexually carnivorous boyfriend, Justin (Matt Westmore), but more emotionally connected to Michael, tries to convince her platonic neighbor to find a girlfriend. Fed up with his unrequited love for Lori, Michael does just that, hooking up with the dark and mysterious Darcy (Jacqueline Kim). But as Michael navigates his budding romance with Darcy, jealousies erupt with the other couple, and the secrets the co-eds withhold from each other threaten to break the two relationships apart. Written, directed, and edited by first-time filmmaker Eric Byler, Charlotte Sometimes had its premiere at the 2002 South by Southwest Film Festival.
Critic Reviews for Charlotte Sometimes
Audience Reviews for Charlotte Sometimes
A man who secretively loves an attached woman attempts a relationship with a new, mysterious woman. Remarkably slow (or in indie-speak "understated"), this drama attempts to milk each moment, each over-wroughtly contrived situation for the most it can wring. Slow pans and pregnant pauses punctuate the drama, and while I found every plot twist indicated and predictable, I can't say that there was much that could have been done with this story that wasn't done. The performances were all what one might expect from an indie drama: strong, but ultimately actors being actors. Overall, I think the story would have been better served by a short film rather than an extended drama.
Jim Hunter
Super Reviewer
Charlotte Sometimes is an indie film, shot with a 20,000 budget that is a masterwork of cinematography, expertly using camera,color and lighting. The story involves four late 20's early 30's adults and concentrates on all the lies we tell to others and ourselves, especially in areas of the heart. At the center is Michael, a lonely, quiet man who inherited his uncles' home and car repair business (more that he was the last man standing than anything else, as the rest of his relatives either didn't want the business or had moved away). Michael has renovated the home into two apartments, so he has tenants to cover his expenses. He rents to a cohabitating couple who have been together for 10 months. In his lonliness he can hear their carnal carrying ons, which only add to his sense of detachment. He believes that he is in love with the woman, but since they are good friends, doesn't want to ruin the friendship with a confession of his feelings. Into this odd triangle comes another woman, Darby, who attracts not only Michael, but the male renter. What then insues revolves around betrayals and secrets, of which I'm not going to speak further. The beauty of this film is that we are introduced to the charactors slowly, letting the viewer learn about them, just as the other charactors on screen are learning. What is ultimately revealed is a very impressive depth to three out of the four charactors, who are all flawed, yet very real in their feelings and motivations. The lighting is exquisite throughout, often accentuating the mood, and the clever use of camera angles adds depth without being showy and detracting from the content. There is a beautifully filmed sequence that takes place outside of a cheap motel. A man's soul is brought into question, and as he enters his car to ponder what level he has sunk to, the car's interior lights slowly fade, dimming his face until he is a shadowed silhouette. The title of the film inferes something important, and perhaps I took the meaning in the wrong way; though it was interesting to see that, while I may have been mistaken, in a way I was not; as who we are is subject to change given who we are with and the environment that surrounds us. The person we show to others may or may not be who we truly are - the reasons for the falsehood may be medical, or perhaps just a safety net, keeping us from suffering. We think we control the spin, but in reality the spin often controls us. Charlotte Sometimes explores these boundaries with a sure hand, while leaving us to decide exactly what will happen after the film fades to black.
paul sandberg
Super Reviewer
A strange kind of love story. This left the viewer bewildered. Too much left unsaid for this viewer to be able to figure out what happened. Of this much, I am sure: there was more to this than what appeared on the surface. Deception and infidelity and longing and past loves all combined to make this very hard to decipher. And the ending leaves things ambiguous so that we can only guess how they turned out. A beautifully shot, quiet film that leaves more questions than it answers.
Mark Abell
Super Reviewer
Charlotte Sometimes Quotes
There are no approved quotes yet for this movie.