Chasing Liberty
(2004)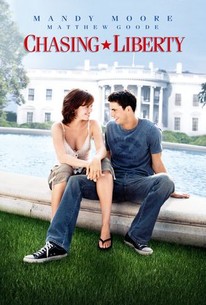 Movie Info
Television director Andy Cadiff turns toward feature films to direct the romantic comedy Chasing Liberty, which appears to be loosely based on the 1953 Audrey Hepburn classic Roman Holiday. Mandy Moore stars as Anna Foster, the 18-year-old daughter of President of the United States James Foster (Mark Harmon). Anna has led quite a privileged life, but she has grown to resist the constant presence of Secret Service agents getting in the way of her independence. While on a family trip to Europe, Anna manages to get away from security for a brief time. She inevitably falls into the romantic arms of British boy Ben Calder (Matthew Goode), with whom she enjoys a fresh and clean European vacation. Not wanting to ruin her fun, she doesn't tell him about her upper-class social status. But, alas, Ben surprises her with a secret identity of his own. Jeremy Piven and Annabella Sciorra play two Secret Service agents. Caroline Goodall plays the wise, conventional First Lady.
News & Interviews for Chasing Liberty
Critic Reviews for Chasing Liberty
Audience Reviews for Chasing Liberty
Just a really sweet romantic comedy about how you can fall in love with anybody. I also just loved Weiss & Morales, and was so happy when they finally kissed. What can I say I love romance! :) Also Anna & Ben were just perfect :) I love it :) Such an amazing movie (:
Cassie Hill
Super Reviewer
The best 'president daughter' type of film that I've seen. This puts 'First Daughter' to shame. Mandy Moore and Matthew Goode make an adorable couple and I really enjoyed the whole story line despite knowing what the end would be like.
Bethany Murphy
Super Reviewer
Anna Foster has no personality. All I can infer from the past hour and fifty minutes is that she whines, fishes for compliments, and all-around fails at actually taking care of herself. Still, Matthew Goode is rather luscious candy for the eyes and ears. He even gets one of those wildly romantic declarations of love with Britishisms like "adored" and "un-bloody-hinged."
Alice Shen
Super Reviewer