Chasseurs de Dragons (Dragon Hunters)
(2008)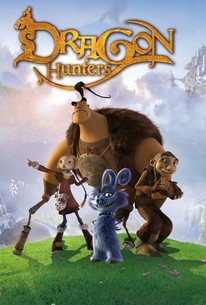 Chasseurs de Dragons (Dragon Hunters) Photos
Movie Info
A little girl helps two would-be heroes save the world from a rampaging beast in this GCI-animated feature from France. Lord Arnold was once a brave warrior who frequently did battle with the World Gobbler, a fearsome dragon who would return every five years to bring destruction to everything (and everyone) in its path. However, Arnold is growing old, his vision is failing him and he's no longer up to the challenge of battling dragons. Arnold's niece Zoe is a spunky young girl who has learned to best the tiny dragons that play in the woods and wants to move on to more ambitious game, but Arnold is wary of letting her face the beasts he's chased most of his life. Fate steps in when Zoe gets lost in the forest and a pair of opportunistic wanderers, brave Lian Chu and conniving Gwizdo, find her and attempt to return her to her uncle in hopes of a reward. As they make their way back to Lord Arnold's castle, Lian Chu and Gwizdo find they've been misidentified as a pair of knights who've come to vanquish the World Gobbler, and with Zoe's help they square off against one of the world's most powerful dragons. The voice cast for the original French release of Chasseurs de Dragons included Marie Drion, Vincent Lindon, Patrick Timsit and Philippe Nahon; for its release in English-langue territories as Dragon Hunters, Forest Whitaker, Mary Mouser, Rob Paulsen and Dave Wittenberg headlined the vocal cast.
Critic Reviews for Chasseurs de Dragons (Dragon Hunters)
Audience Reviews for Chasseurs de Dragons (Dragon Hunters)
The French and 3D animation don't go well together. Dragon Hunters is a subpar animated film about an idealistic girl wanting to meet a brave stumbling upon a gentle giant, and they hunt for dragon. Nothing interesting to see here other than horrible writing and really terrible voice acting.
Sylvester Kuo
Super Reviewer
Beautifully filmed, with some truly exquisite passages, this film falls flat by being so typically derivative, showing us nothing we haven't seen before except some beautifully filmed scenes. Even the story seems creaky - a young princess dreams of vanquishing the arch dragon, that her uncle has kept at bay for years. She runs away from the castle (with underdeveloped motivation) and therefore gets saved by a "team" of Dragon Hunters - one, the strong, pure hearted, but kinda dim Lian Chu (wish they would have called him Dim Sum), and the conniving, quasi jive talking Gwizdo - they form an odd couple indeed... just as we've seen in countless other films. Upon rescuing the girl, the team decides to return her to her uncle, hoping to receive a reward - instead they are sent on a mission to rid the realm of the arch dragon "world gobbler". The rest is a quest, which provides some nice imagery and artful animation, but is ruined by the typical casting of the characters involved. The little girl won't stop yakking while Gwizdo continues to be the typical wise cracking non hero... and Dim Sum? He says next to nothing, continually looking into the camera with a bewildered look behind his fu Manchu. The film is also a bit lazy as it reused several shots - in particular those of a crowd laughing at Dim Sum as he tries to vanquish some kind of giant caterpillar. This is jarring when set against Roger Deanesque vistas of small jagged worlds tumbling through space. Such shots are nice, but the implausibility of jumping from one "planet" to another further reminds you that at all times you are watching animation - not something visceral. I suppose you could suggest that the film is just a dream, and being French, I suppose that's possible... but then I must compare it to another French film that was actually a dream - Fantastic Planet. There you had a film with a purpose, exploring many sci-fi themes with originality - while with Dragon Hunters; well, I'm not sure what the purpose was, or why this film got green lighted - it doesn't cover any new ground and really, except for it's quirky, yet nicely done animated style, has no reason to exist.
paul sandberg
Super Reviewer
½
While it's not as polished and fully cohesive like a bigger production, it's one that is passable. That being said the story is very basic but the environments and quality of the images are top notch!
Chris Browning
Super Reviewer
Chasseurs de Dragons (Dragon Hunters) Quotes
There are no approved quotes yet for this movie.