Chattahoochee
(1989)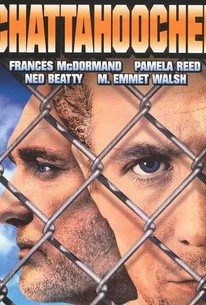 Movie Info
Aiming to procure insurance money for his family, Emmet Foley, a Korean War vet, attempts to commit suicide in the '50s and is soon locked up in a Florida state mental hospital after being wrongly declared insane. It is here that he finds unbelievably cruel treatment by the staff of the defenseless patients and he spends years attempting to call public attention to what is going on inside the institution. Gary Oldman stars in this truth-based drama about Chris Calhoun, supported by actors Dennis Hopper, Ned Beatty, Pamela Reed and Frances McDormand among others.
Critic Reviews for Chattahoochee
Audience Reviews for Chattahoochee
Great performances by Oldman, Hopper, Reed and McDormand add to the intriguing true story of one patient's battle to reform a mental institution. Nice direction and realistic throughout.
Anthony Valletta
Super Reviewer
Hard as hell to sit through, but SO worth it if you do. Gary Oldman plays a Korean War veteran who cracks up and is sent to an asylum/prison camp that makes the farm in Cool Hand Luke look like Disneyland. Supposedly based on a true story about a place in Louisiana. Oldman is fantastic. He's so talented. It's a shame he wastes so much effort playing freaks -- True Romance, anyone?
½
Based on a true story, a Korean war vet named Emmett Folley (played by Gary Oldman) can't adjust to life back home and has a crisis with the law. He is sent to Chattahoochee, an outhouse of an institution where the state of Florida locks the mentally ill and the criminals together. Emmet is a rebel against the cruel guards. Emmet's wife and kid are visiting less and less, so Emmet finds companionship in Walker Benson (played by Dennis Hopper). The two of them talk of escaping this place, but Emmett has a bigger idea... A movie of the human spirit against all disgusting odds; they were probably hoping for Academy Award nominations with this one. It's grim and gritty, but is ultimately a joy to watch.
Lafe Fredbjornson
Super Reviewer
Chattahoochee Quotes
There are no approved quotes yet for this movie.