Cheaper by the Dozen
(1950)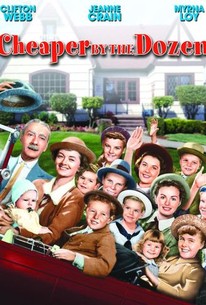 Cheaper by the Dozen Photos
Movie Info
This comedy-drama, based on the Gilbreth-Carey novel, presents episodes from the life of the Gilbreth family in the early twenties. Much of the story focuses on the father of the 12-children. He is prissy and obsessed with time. His wife, a psychologist, is always trying to get him to relax. Meanwhile, the children deal with the changing times and their old fashioned dad. Despite their differences, the family remains close-knit even after tragedy strikes.
Critic Reviews for Cheaper by the Dozen
Audience Reviews for Cheaper by the Dozen
The original "Cheaper by the Dozen" is based on the autobiography of the real Gilbreth clan, who lived in early 20th century New England. The film is queerly obsessed with the olden days, and how great they were. Headed by patriarch Frank (Webb) the family of twelve moves to another state, gets a big house, and shenanigans ensue. Tonsils are removed, makeup and heels are denigrated, there's a school dance, and a dog somehow takes residence in the home. Webb's character is supposed to be wacky yet strict, but he comes off as a loudmouth sexist. His often slut shames his daughter (Crain) who is just trying to be a normal teenage girl. He talks a lot about the virtues of marriage, the inefficiency of others, and his own warped, often outdated views, on a plethora of other subjects. I understand that this may have been the tone of family life in the twenties, but language such as this has no bearing on a family film in the early fifties. Frank is always trying to show how efficient he can make certain processes, but in the midst of it he often talks down to people and basically insults everyone's intelligence. It's a film that tries to be sweet natured, but Webb's dialogue comes off like a mean girl lecturing on morality. It comes off as fake and twisted, tarnishing any family value it tries to exact.
Spencer S.
Super Reviewer
½
An interesting family drama/comedy based on a real family, but it gets boring after a while, it could've been better.
not as good as the newer one
erika bruhns
Super Reviewer
Cheaper by the Dozen Quotes
There are no approved quotes yet for this movie.