Cheech & Chong Get Out Of My Room
(1985)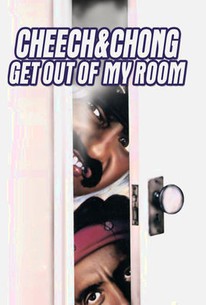 AUDIENCE SCORE
Critic Consensus: No consensus yet.
Movie Info
Long before Richard "Cheech" Marin was a grey-maned, highly respected character actor, he was one half of the dopehead comedy team of Cheech and Chong. Made in 1985, the 53-minute video Get Out of My Room was one of C&C's final efforts before their amicable breakup. The video softpedals the drug jokes in favor of sexual banter. The "plot," you see, consists of Cheech and Chong's advice to potential video directors, which boils down to "hire lots of girls." Featured in the cast are Cassandra Peterson, aka "Elvira, Mistress of the Dark," and none other than Jan Michael Vincent. ~ Hal Erickson, Rovi
Critic Reviews for Cheech & Chong Get Out Of My Room
Audience Reviews for Cheech & Chong Get Out Of My Room
Cheech and Chong Get Out of My Room is an unfunny, forgettable Cheech and Chong short. The movie comes in at about 50 minutes and is pure boredom and bad jokes for the entire time. Not only didn't the film make me laugh, but I was left wondering what the two of them were trying to do with this in the first place. Maybe at the time it was made, it would have made more sense to me. Now, it's just dumb. Cheech and Chong are making a video to go along with their album. This movie follows them while they do this. It has sort of a Spinal Tap formula to it, but it doesn't have the great material that Spinal Tap did.  Even for hardcore Cheech and Chong fans, it is asking a lot to watch this whole thing. I feel bad for describing it as almost torture, but if the shoe fits. I would recommend giving this one a pass if you ever are able to stumble across it. Stick to Up in Smoke for your Cheech and Chong humor.
Melvin White
Super Reviewer
Cheech & Chong Get Out Of My Room Quotes
There are no approved quotes yet for this movie.