The Cheetah Girls
(2003)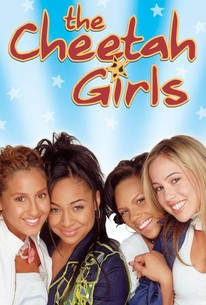 Movie Info
Based on the popular series of children's books by Deborah Gregory, the made-for-cable The Cheetah Girls is all about four teenage girlfriends, all from different ethnic and economic backgrounds, all attending a Manhattan high school specializing in fashion design. The foursome includes the unofficial leader, Galleria Garibaldi (Raven) and her pals Dorinda (Sabrina Bryan) and Chanel (Adrienne Bailon), as well as comparative newcomer Aqua (Kiely Williams). Aspiring to pop-music stardom, the quartet forms a girl group, whereupon they attract the interest of music teacher (and former disco queen) Drinka Champagne (Sandra Caldwell) -- who, in turn, refers the girls to Jackal Johnson (Vincent Corazza), a charming but duplicitous producer for Def Duck Records. Sensing that the Cheeta Girls' first taste of showbiz success will degenerate into exploitation and backstabbing, Galleria's mom, ex-model Dorothea (Lynn Whitfield), tries to save her daughter and friends from the cruelties of life in the fast lane. The Cheetah Girls debuted August 15, 2003, on the Disney Channel.
Critic Reviews for The Cheetah Girls
Audience Reviews for The Cheetah Girls
Bradley Wright
Super Reviewer
Jim Careter
Super Reviewer
A lot of terrible actng, terrible dialogue, far too many 'feel good' scenes, and just a flat out waste of time for kids and adults alike.
Dillon Lupky
Super Reviewer
The Cheetah Girls Quotes
There are no approved quotes yet for this movie.