Chéri
(2009)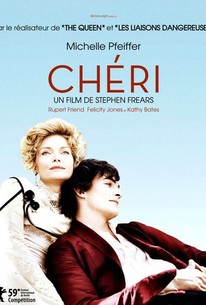 Movie Info
It is turn of the century in Belle Epoque Paris and a scandalous romp is underfoot. The sensational tale begins as the ravishing Lea contemplates retirement from her renowned stature as Paris' most envied seductress to the rich and famous. Her plans are cut short when she is approached by a former courtesan and arch rival, the barb-throwing gossip Charlotte Peloux, who encourages Lea to teach her disaffected 19-year-old son -- a bon vivant nicknamed "Cheri" -- a thing or two about women. The resulting escapades involve power struggles over sex, money, age and society -- and, unexpectedly, love itself -- as a boy who refuses to grow up collides with a woman who realizes she cannot stay young forever.
News & Interviews for Chéri
Audience Reviews for Chéri
Although not really involving nor exactly compelling, this romantic drama based on Colette is at least charming, with a wonderful production design and a nice chemistry between Pfeiffer and Friend.
Carlos Magalhães
Super Reviewer
½
During la belle epoque, an old courtesan and a young man fall in love, but when the man must marry, their relationship reaches an impasse. Playwright/screenwriter Christopher Hampton collaborated with director Stephen Frears in 1988 to produce one of the most vicious battles of the genders ever put to film, Dangerous Liaisons, and their most recent collaboration seems like the aborted product of their imitators or merely the vain scribblings of old men who can no longer hack it. In every way Cheri is a Frears/Hampton film, but in every way it falls short. In what few moments of manipulation there are, we see none of the mischievousness and guile that made Valmont a man we love to hate. In what few moments of sexual passion, we none of the allure of the young Uma Thurman (all of the actresses in Cheri must have had a no nudity clause). And in what few moments of loving tenderness in Cheri, there is none of the passion we saw in Tourvel and Valmont's torrid break-up and reunion. What remains is a sterile imitation of Dangerous Liaisons. And Cheri's motivations are occasionally mysterious. Even after he explains his reunion with Edmee, it still doesn't make any sense. I must say that this is a courageous role for Michelle Pfeiffer as much of Lea's character development takes place in the sad lines on her aging face. But this was but one ugly moment in a whole film in which she is made to look as beautiful as she can. Also, the script reduces the eminently talented Kathy Bates to a mere cartoon. Overall, see Dangerous Liaisons, and when you're done, you can say that you saw Cheri too.
Jim Hunter
Super Reviewer
Indulge in a wicked game of seduction A romantic story of a young boy who is attracted by a prostitute older than him So the movie inst so bad, i thought it could have been worst, way worst, its an elegant movie, that is visually pleasing, nothing out of the ordinary. In terms of costume this movie is fabulous, amazing stylish outfits that should inspire a lot of people out there. In terms of the story, there isn't anything special, its a semi-erotic build up plot. But one thing has to be named, Pfeiffer is amazing! So is you want to go see it, its up to you. I don't recommend it to everyone, but if you like historical romances with a spice of sensuality , go ahead. Lea de Lonval : I can't criticize his character, mainly because he doesn't seem to have one!
Pedro Holanda
Super Reviewer
Chéri Quotes
There are no approved quotes yet for this movie.