Cherry
(2010)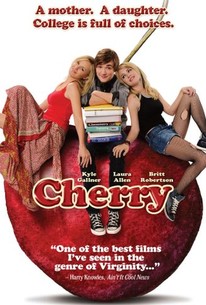 Movie Info
A naïve teenager finds out just how complicated adult relationships can be in this comedy drama from veteran television director Jeffrey Fine. Aaron (Kyle Gallner) is a bright but socially awkward college freshman studying to become an engineer, like most of the men in his family. Aaron has been accepted into a special advanced program at an Ivy League university, but he's also a gifted cartoonist and would rather study art. Aaron tries to work some drawing classes into his schedule, and through one he meets Linda (Laura Allen), a beautiful 34-year-old single mother who has returned to college. Upbeat and outspoken, Linda befriends Aaron; he's flattered by the attention and becomes deeply infatuated with her. However, when Linda invites Aaron home for dinner, he's introduced to Beth (Britt Robertson), her sharp-tongued and precocious 14-year-old daughter. Beth immediately develops a passionate crush on Aaron, and he finds himself in an uncomfortable position -- the woman he wants is only going to be his friend, while he's not so interested in the girl who wants him (and he could go to jail if he responds to her advances). Cherry received its world premiere at the 2010 South by Southwest Film Festival.
Critic Reviews for Cherry
Audience Reviews for Cherry
½
Another movie that on the surface looks like a raunchy comedy in the old National Lampoon mold. It is a bit more smartly written and the performers are able to bring the more complex adult story to life with lots of surprises. I attribute this to the director's experience in television. Gallner plays a college freshman. It is well established, maybe over established, that he comes from a long line of engineers, but he is more interested in art. His interest in drawing is utilized well in the graphics of the movie. Allen is the hot older woman, who is returning to college to get the degree she couldn't get her first time around. Her looks can be deceiving though, since she struggles with alcoholism and has not been the best mother. Robertson is the daughter, who has had to grow up fast. She plays a character who is younger than she really is, but it is still shocking to see and hear some of the dark things she deals with. She develops a crush on the boy and he is caught in the middle. Meanwhile, there is some school work business tossed in so we don't forget the guy is a student. Still it felt fresh. I thought I might skip through it while streaming online, but it caught hold of me.
Byron Brubaker
Super Reviewer
This was a pleasant surprise. Funny how some films that appear to be pure fluff, judging by the cover art and the description can turn out to be unknown gems. I queued this up, expecting some lightweight coming of age drama and got a very well done, thoughtful story of a young man struggling to find his place in a highly competitive, Ivy League college. Kyle Gallner is Aaron, a freshman with a real artistic talent who finds himself in the engineering program to please his domineering engineer mother (Stephanie Vindetto). He meets Linda (Laura Allen), an older woman in a Life Drawing class and becomes friends with her. The acting was quite good, and the story flowed naturally. These are not perfect people dealing with superficial problems. Aaron struggles in his design class and with fitting in to college life, while Linda has personal issues and problems with self-esteem. Add to this Linda's fourteen year old, mature beyond her years daughter, and a volatile cop (Esai Morales) for a boyfriend, and Linda's plate is pretty full. But these three damaged souls provide a space for healing for each other. This one moved me with its tenderness and its honesty.
Mark Abell
Super Reviewer
This movie was better than expected. I knew I'd like it, because it falls right into line with other independent drama/comedy/coming of age films that I seem to love; Rocket Science, Ballad of Jack and Rose, Thumbsucker, etc. What I didn't expect, is that it's probably not just a movie I'd like and has more appeal than just the quirky characters indie film niche. Sure.. there were a few plot holes, and minor character flaws - things that were done that I didn't understand the motivation for that person to do - but it's a great effort. The one thing that impressed me most is, with 10-20 minutes left I still had no clue where the movie was going to go. This is good in the sense they didn't broadcast twists and changes in the story arc, and the dialogue and flow kept me sucked in to the story to the point that wasn't even something I thought about. Even more so, because Cherry seems a bit cliche, unrealistic and predictable on the surface; but the characters and story have a lot of depth, and with that depth it works.
Nick Grimm
Super Reviewer
Cherry Quotes
There are no approved quotes yet for this movie.