Cherry Falls
(2000)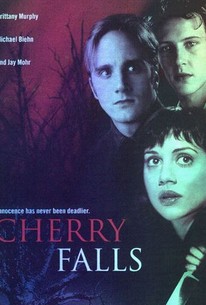 Movie Info
A serial killer with a difference is on the prowl in a small Virginia town in this darkly comic horror story. Brent Marken (Michael Biehn) is the sheriff of the city of Cherry Falls, a quiet community that suddenly has a big-city problem to contend with when Marken discovers a murderer is on the loose. The killer is targeting teenage girls who attend the local high school -- and his victims are all virgins. This causes no small amount of anxiety for Brent's teenage daughter Jody (Brittany Murphy), who is not as ready for intimacy as her boyfriend Kenny (Gabriel Mann). Brent has personal problems of his own to deal with; his relationship with his wife Marge (Candy Clark) has hit an impasse, and he shares a dark secret with Tom Sisler (Joe Inscoe), the principal of the high school. Cherry Falls marked the American directorial debut for Australian filmmaker Geoffrey Wright; the cast also includes Jay Mohr, Caroline Perreyclear, and Rick Forrester. Cherry Falls enjoyed its first theatrical engagements in the United Kingdom, several months after it was first slated to open in the United States, thanks in part to the difficulty the producers had with the MPAA in securing an R rating for the picture.
Critic Reviews for Cherry Falls
Audience Reviews for Cherry Falls
Not bad for a post-Scream slasher with solid performaces through-out, a decent premise and just the right amount of humor. My biggest complaint is the lack of on-screen violence. Sure there's some slices and dices here and there but for the most part it plays it too safe.
A.D. Villarreal
Super Reviewer
½
A teenage couple is killed while making out by the lake in small town Cherry Falls. A further murder points the police to suspect that someone is killing virgins. While the towns' teenagers prepare for a sex party to protect themselves, the sheriff's daughter, Jody Marken, follows a clue that may unmask the killer and her motives. One of the spate of `knowing' teenage slasher movies, Cherry Falls got some publicity from it's twist on the usual horror cliché that `sex = death'. Pointed out in Scream, whenever you have sex in a horror movie you mark yourself out as a victim, however here the twist is that virgins will die and those having had sex will live. The film is quite enjoyable and has the odd tense moment, but quickly falls into line with every other horror cliché in the book ? right down to the big twist over the killer's identity and, true to Scream, it's a big leap! The film is a little modern ironic but doesn't get much mileage out of it. More interesting to me was the angle that, in this day of AIDS and STD's, those HAVING sex were actually protected while those saving themselves and being careful were actually risking death. I'm not sure if this angle was thought of when making the film but it didn't get any significant air time or comment ? I guess the film only wanted to be ironic or post modern if it didn't involve any thought or effort. That said it still sort of works, even if it doesn't really stand out from the rest of the teen slashers (but then, what does?). The cast are so-so. Murphy is OK in the lead and Biehn is a familiar face as her father. Jay Mohr has a small role but happily isn't awful. The rest of the teens tend to fall into high school stereotypes of jock, nerd, joker etc and only really serve to be victims rather than characters. There are no really gory moments but there are lots of quite cruel ones which happen just offscreen but are no less horrific for it. Overall the film is OK but can't really do anything intelligent with it's unique twist. I knew it was clever to do things like this, but the film gets no mileage out of the wider ideals (AIDS etc) and quickly falls into being a standard teen horror movie complete with shadows, twisty end and so on. Still worth a watch if you like this sort of stuff but it really could have been better than this.
Cassandra Maples
Super Reviewer
½
Maybe it's because this film is now 9 years old, but I really loved it. It's not perfect, by any means, but with 9 years of slashers and remakes this does stand out. It's smartest move is the killers MO. Having the killer target virgins, results in an interesting look at how the community deal with the situation. Nothing too in depth, this is a slasher, and a short one at that. But it's enough to make the film acceptably unique. The film also has a fantastic sense of humour, which plays out well throughout. The quick cuts of engravings on the school "Cherry Falls", "Virginia" and "Erected" were a nice touch and scenes such as the "CLASS DISMISSED" orgy runaway, had me giggling a treat. The film has been severely edited, which is too noticeable. What I can say is that, this is too short and could be expanded on further. Give Cherry Falls a chance and you may have a good time.
Luke Baldock
Super Reviewer
Cherry Falls Quotes
| | |
| --- | --- |
| Cindy: | Girls have to do everything. Boys are totally clueless when it comes to sex.It starts with them trying to unhook our bras, fumbling around, and it never changes.Wait until they try to put their dick into you. |
| Cindy: | Girls have to do everything. Boys are totally clueless when it comes to sex. It starts with them trying to unhook our bras, fumbling around, and it never changes. Wait until they try to put their dick into you. |
| | |
| --- | --- |
| Leonard Marliston: | Ben, I know you have a very different point of view on this tragedy, so go ahead. |
| Ben: | Well, I would like to know if this killer removed any body parts or sexually defiled any orifice of the victim. |
| Cindy: | You're tragically sick. |
| Ben: | I wanna know because if he didn't, this loser deserves a thumbs down! |