Cheyenne Autumn
(1964)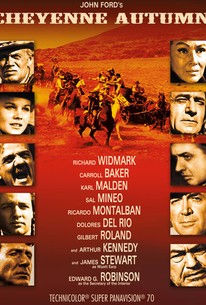 Movie Info
John Ford's last western film, Cheyenne Autumn was allegedly produced to compensate for the hundreds of Native Americans who had bitten the dust in Ford's earlier films (that was the director's story, anyway). Set in 1887, the film recounts the defiant migration of 300 Cheyennes from their reservation in Oklahoma territory to their original home in Wyoming. They have done this at the behest of chiefs Little Wolf (Ricardo Montalban) and Dull Knife (Gilbert Roland), peaceful souls who have been driven to desperate measures because the US government has ignored their pleas for food and shelter. Since the Cheyennes' trek is in defiance of their treaty, Captain Thomas Archer (Richard Widmark), who agrees with the Indians in principle, reluctantly leads his troops in pursuit of the tribe. While there was never any intention to shed blood, the white press finds it politically expedient to distort the Cheyennes' action into a declaration of war. Thanks to the cruelties of such chauvinistic whites as Captain Oscar Wessels (Karl Malden), the Cheyennes are forced to defend themselves--and whenever Indians take arms against whites in the 1880s, it's usually misrepresented as a massacre. Only the intervention of US secretary of the interior Carl Schurz (Edward G. Robinson) prevents the hostilities from erupting into wholesale bloodshed. Based on a novel by Mari Sandoz, Cheyenne Autumn is a cinematic elegy--not only for the beleaguered Cheyennes, but for John Ford's fifty years in pictures. It is weakest when arbitrarily throwing in a wearisome romance between Richard Widmark and pacifistic schoolmarm Carroll Baker, who out of sympathy for the Indians has joined them in their 1500-mile westward journey. When the Warner Bros. people decided that the film ran too long, they chopped out the wholly unnecessary but very funny episode involving a poker-obsessed Wyatt Earp (James Stewart). Contrary to popular belief, this episode was included in the earliest non-roadshow prints of Cheyenne Autumn; the scene was excised only when the film went into its second and third runs in 1966 (it has since been restored).
News & Interviews for Cheyenne Autumn
Critic Reviews for Cheyenne Autumn
Audience Reviews for Cheyenne Autumn
½
In 1878 a band of Cheyenne, tired of the conditions that they were enduring, broke the reservation and started north to their native homelands in Wyoming. They were led by their three chiefs played by Victor Jory, Ricardo Montalban, and Gilbert Roland. Jory dies along the way. The army goes after them and Captain Richard Widmark takes command after Major George O'Brien is killed. Widmark has another reason for pursuit. It seems as though school teacher Carroll Baker is with the fleeing Cheyenne. Baker gives poignancy to her portrayal of a young Quaker woman, who considers it her Christian duty to look after the orphan children of the Cheyenne. Richard Widmark and Edward G. Robinson enact Americans with a conscience, none too happy with the assignments required by their government and reluctantly lead his troops in pursuit of the tribe. Envision a journey on foot against hostile terrain and enemy soldiers, and this will make anyone appreciate just what these people did to maintain their honor and freedom. However the story is bizarrely interrupted by a lengthy James Stewart and Arthur Kennedy as Wyatt Earp and and Doc Holliday scene in the middle of the film that is not remotely connected to the main theme and left me just a little confused.
"A dream is a dead end disguised as an escape." Very beautiful, very flawed. 1,500 mile epic journey never seems to leave Monument Valley. Was John Ford saying something or was he just lazy?
Bob Stinson
Super Reviewer
Cheyenne Autumn Quotes
There are no approved quotes yet for this movie.