Chicago Cab
(1998)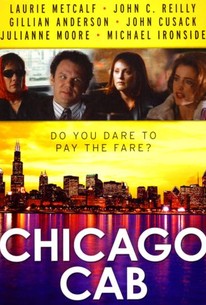 Movie Info
This film is about a rare windy-city cab driver who will go anywhere and do just about anything to please his customers. Out of the two-dozen customers that he runs into, he becomes frustrated that he cannot seem to connect with any of them intimately.
Critic Reviews for Chicago Cab
Audience Reviews for Chicago Cab
½
Though not the most enthralling premise for a movie - day in the life of a Chicago cab driver, I kind of liked this slight film. I have to admit, 30 minutes in, I was really not feeling it, and had started to write a so-so review as I watched, but slowly but surely this one grew on me. The 90's setting and soundtrack fit and the quality of the passengers improve as the movie goes on. John C Reilly particularly is a real douche here and, as I only know him from newer movies, it was strange to see him so much younger. I also found the brief Laurie Metcalf scene amusing and the cougar lawyer as pitiful as it was amusing. The Gillian Anderson scene is underwhelming and John Cusack strangely menacing. I really don't think I would like this guys job! As it is set around Christmas time, not a bad movie for that time of year. Worth a look.
Nicki Marie
Super Reviewer
Chicago Cab Quotes
There are no approved quotes yet for this movie.