Chico & Rita
(2012)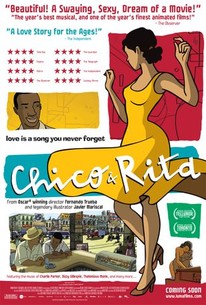 Movie Info
Cuba, 1948. Chico is a young piano player with big dreams. Rita is a beautiful singer with an extraordinary voice. Music and desire unite them as they chase their dreams and each other from Havana to New York to Paris, Hollywood and Las Vegas. With an original soundtrack by legendary Cuban pianist and five-time Grammy-winning composer Bebo Valdés, Chico & Rita captures a defining moment in the evolution of history and jazz, and features the music of (and animated cameos by) Thelonious Monk, Charlie Parker, Cole Porter, Dizzy Gillespie, Woody Herman, Tito Puente, Chano Pozo, and others. -- (C) GKIDS
Critic Reviews for Chico & Rita
Audience Reviews for Chico & Rita
½
A jazz pianist and a flamenco dancer fall in love but split during political turmoil. This foreign animated film is a nice albeit predictable love story. The characters make all the mistakes of youth, but the story is told with a certain deftness that made me forgive the film its inadequacies. The animation is good, naturalistic at times, frenetic during the jazzy scenes, attempting to take on the "look of the music," and oddly sexy where appropriate. Overall, I enjoyed this film even if I didn't think it had anything new to offer.
Jim Hunter
Super Reviewer
½
The story arc may have the clichéd trajectory of a Behind the Music TV episode, but that's because so many showbiz careers really have followed that career path. The main characters aren't particularly likeable but they're very authentic. They behave like human beings driven by lust and greed. These individuals curse, smoke, do drugs and have sex. They're not sensitive or cloying. What they are is a convincing depiction of real people and attitudes of a certain time period. That uniqueness is kind of refreshing. But most of all, this is a love letter to a bygone era made by aficionados who truly appreciate Latin jazz, which was essentially a mixture of bebop and Cuban folk. It's a visually lush and beguiling re-creation that earned this a surprise Oscar nomination for Best Animated Feature. The picture draws attention to this beautiful music and I can think of worse things than reveling in these poetic rhythms for 94 minutes.
Mark Hobin
Super Reviewer
Chico is currently an old man living in Havana. One day, he hears a song that he wrote fifty years before and is transported back to 1948 when he and his friend Ramon were out clubbing with two American women. But Chico has eyes for no one but Rita, a shapely singer, who hardly gives him the time of day and leaves with an American date with Chico sadly not getting any closer to knowing her any better. But Ramon helps find her at the Tropicana, the hottest nightclub in town and then Chico and Rita finally hit it off. But not before a close escape from the American paramour, thus allowing Chico and Rita to make beautiful music that night while Ramon gets to spend the night with the American women. "Chico and Rita" is an exuberant and bittersweet animated film that is both nostalgic and anti-nostalgic. For the first, it satisfies the viewer's need for hand drawn animation to expressionistically recapture a lost world of great music and artists, including a few cameos and apparently one true life incident thrown in, centered around a tempestuous love affair that both inflames and inspires. Along these same lines, this world is not as pretty as memory recalls, which the straight lines of computer animation could not capture, with the subjects of racism and questions about whether Cuba is better off after the revolution coming to light.
Chico & Rita Quotes
| | |
| --- | --- |
| Chico: | Have you thought about your career? About your future? |
| Rita: | Future, what future? The future never gave me anything! All my hopes are set on the past. |