Child 44
(2015)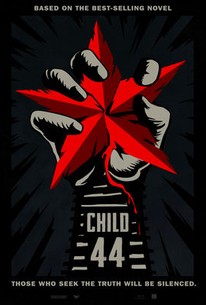 TOMATOMETER
AUDIENCE SCORE
Critic Consensus: There's a gripping story at the heart of Child 44 and a solid performance from Tom Hardy in the lead, but it all still adds up to a would-be thriller that lacks sufficient thrills.
Movie Info
A politically-charged serial killer thriller set in 1953 Soviet Russia, CHILD 44 chronicles the crisis of conscience for secret police agent Leo Demidov [Tom Hardy], who loses status, power and home when he refuses to denounce his own wife, Raisa [Noomi Rapace], as a traitor. Exiled from Moscow to a grim provincial outpost, Leo and Raisa join forces with General Mikhail Nesterov [Gary Oldman] to track down a serial killer who preys on young boys. Their quest for justice threatens a system-wide cover-up enforced by Leo's psychopathic rival Vasili [Joel Kinnaman], who insists "There is no crime in Paradise." (C) Lionsgate
News & Interviews for Child 44
Critic Reviews for Child 44
Audience Reviews for Child 44
It's not often that a movie is constructed in such an incoherent fashion that even the title merely hearkens back to an after-thought from the film, but "Child 44" is one such uncommonly haphazard film. The fact that Child #44 is indistinguishable in the film proves the utter lack of focus in the horrendously uneven, improbable and at times preposterous script. Of course, one might not feel sure that Child #44 isn't a central figure since the dialog is nearly impossible to hear through the actors' constantly mumbled Russian accents. Although the acting is good and there are some admirable points to the directing, "Child 44" does not come close to the coherence of virtually the same story filmed in 1995 as "Citizen X" with Stephen Rea and Donald Sutherland. At least in that older film, there was some sense of scale and suspense -- in "Child 44", one hardly realizes it matters that there is a serial killer on the loose. Especially since everyone else is worse than the serial killer. In sum, this film is boring and stupid. One cannot use an all-knowing, omnipotent, Russian security service as a constant plot device (who in the 1950s apparently have Star Trek teleporters to move characters from one end of the Soviet Union to the other within moments!), only to play off its utter cluelessness when it comes to matters of crime and security. The script and editing are just too silly to get my recommendation.
Christian C
Super Reviewer
½
First off Tom Hardy is top notch in this film, possibly one of my favorite recent performances of his, he sells his character "Leo Demidov's" inner struggle and conflicting emotions excellently, nailing the Russian accent as well. Apart from Hardy, Naomi Rapace also does a great job at conveying her own personal struggle. There is also a few smartly put together scenes in this film a few early on and for the first 30 minutes I was very intrigued by the plot and mystery of the horrific child murders. Also the dull gloomy cinematography sets the tone for the narrative well. However this film did fail to deliver on many levels. The plot lost its real intrigue after about 30 minutes, and for a murder, mystery set in this era their was no clear build up of suspense, or a real pay off for the slow paced plot. I thought Joel Kinnaman's antagonist was poor, he didn't show much range and his character was very clichéd, the no mercy, militant, coward. Also I felt the action sequences were very poorly filmed with too much shaky cam, I honestly couldn't see what was happening. It's sad that this story lost its momentum after the first act because it really did have a lot of promise. I feel that this film's $50,000,000 budget could have been put in a better director's hands. Maybe David Fincher or Denis Villeneuve who did Prisoners and Enemy. Overall I am generally disappointed with Child 44 but I can take nothing away from Tom Hardy who shines throughout.
Shane Breen
Super Reviewer
½
It wouldn't be hard to forgive this messy thriller for its expository dialogue and for being too long and confusing about its purpose, but it is impossible to overlook the way it insults our intelligence with a ridiculous, one-dimensional villain and laughable plot absurdities.
Carlos Magalhães
Super Reviewer