Child Of God
(2014)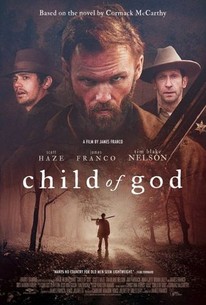 TOMATOMETER
AUDIENCE SCORE
Critic Consensus: An obviously reverent adaptation that fails to make a case for the source material being turned into a movie, Child of God finds director James Franco outmatched by Cormac McCarthy's novel.
Movie Info
Directed by acclaimed filmmaker James Franco, and based on the chilling novel by Cormac McCarthy, Child of God, tells the provocative story of Lester Ballad (Scott Haze), a dispossessed, violent man, attempting to exist outside the social order. Consecutively deprived of parents and housing and driven by famished loneliness, Ballard descends literally and figuratively to the level of a cave dweller as he falls deeper into crime and degradation. Set in a small town in the foothills of the Appalachian Mountains in Tennessee in the 1960s, Child of God is structured in three segments with each segment describing Ballad's ever-growing isolation of from society and social mores. Child of God also stars Jim Parrack (True Blood), Tim Blake Nelson and features an appearance by James Franco. Co-Written by Franco and Vince Joliette, Child of God is produced by Caroline Aragon, Vince Jolivette, and Miles Levy. (C) Well Go USA
News & Interviews for Child Of God
Critic Reviews for Child Of God
Audience Reviews for Child Of God
Outstanding drama with controversial subjects co-written and directed by James Franco, and starring Scott Haze... I never read the novel of the same name by Cormac McCarthy but I'll guess it had the reception like the movie. If you know that this film was selected to be screened in the official competition at the 70th Venice International Film Festival and was an official selection of the 2013 Toronto International Film Festival, be assured that you won't be watching a classical Hollywood blockbuster. I am glad that at the end it was something I could not even guess with the wildest imagination. Starring Scott Haze as Lester Ballard, Tim Blake Nelson as Sheriff Fate, James Franco as Jerry and Jim Parrack as Deputy Cotton, this was the movie which will require from you not to react on the most of the presented taboos of the society, and to concentrate on the heartfelt story of survival. Scott Haze had his lifetime performance; it is almost impossible beating that! James Franco directed it with such perfection, that I will never miss any of his future movies. From the cinematography, to editing, choice of the fonts for the titles, music... everything was made to look like a perfect Indie movie! I would not waste too many words on it - just "don't miss it"!
½
Going out on a limb here, but here goes: second only to Frankenstein (and then only because that was first, but that's the only reason) when it comes to taking a hard look at the rationale for horror, for "monster", the why's and wherefores. And I've seen a lot of horror movies since Frankenstein, but almost none that didn't somehow glorify the taking of life. Here the taking of life is viewed as the curious means to an end, however sad and pathetic that end might be. Its adapted from a Cormac McCarthy story, and I didn't know it was horror until it was well along. That's good. This one's a keeper. And from James Franco??? I stand corrected.
Kevin M. Williams
Super Reviewer