Children of Men
(2006)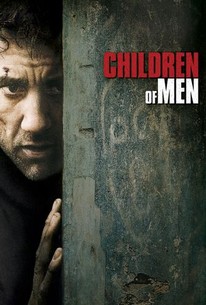 TOMATOMETER
AUDIENCE SCORE
Critic Consensus: Children of Men works on every level: as a violent chase thriller, a fantastical cautionary tale, and a sophisticated human drama about societies struggling to live.
Movie Info
A futuristic society faces extinction when the human race loses the ability to reproduce. England has descended into chaos, until an iron-handed warden is brought in to institute martial law. The warden's ability to keep order is threatened when a woman finds that she is pregnant with what would be the first child born in 27 years.
News & Interviews for Children of Men
Critic Reviews for Children of Men
Audience Reviews for Children of Men
As soon as I read the synopsis of this movie I knew I had to see it and I was not disappointed. The story is great though you wish we'd get more information into this story and the end leaves you wanting for more. However, this does not stop it from being one of the best sci-fi films out there. Original and innovative.
Alfonso Cuarón's Children of Men is a stunning picture that boasts great performances from its cast, and tells a riveting and well thought out story. This is an impressive feet of cinema, one that delivers on a stunning concept. Anyone looking for a film that plays on originality will surely want to check out Children of Men. I was very much impressed by the film, and I thought it was a highly entertaining film going experience that is unforgettable. To me, there was a great performance from actor Clive Owen, who delivers the best performance of his career. The blend of action and drama complement each other, and you are just sucked into its multi layered story. Cuarón is a great director, and crafts something memorable here. Children of Men, is a standout picture boasts great direction, a talented cast of actors and a highly memorable plot. This is a film not to miss. The idea behind the film is great, and I really loved the concept. I really love the Dystopian/futuristic genre, and Children of Men is one of the finest examples of the genre, and it is a flawless work of cinema that works very well on so many levels. If you enjoy films like this, don't hesitate to give Children of Men a shot. This is filmmaking at its very best, and a film that you need to watch. Packed with action and memorable performances, this is a film that will just suck you into its story and won't let go till the final credits roll. Alfonso Cuarón would later helm the visually epic Gravity, but to me, I think that this is his strongest effort. Children of Men is a work of cinematic originality that every film enthusiast should seek out.
½
[img]http://images.rottentomatoes.com/images/user/icons/icon14.gif[/img]
Directors Cat
Super Reviewer
Children of Men Quotes
| | |
| --- | --- |
| Jasper: | Yeah, there you go! Julian and Theo met among a million protesters in a rally by chance. But they were there because of what they believed in in the first place, their faith. They wanted to change the world. And their faith kept them together. But by chance, Dylan was born. |
| Kee: | This is him? |
| Jasper: | Yeah, that's him. He'd have been about your age. Magical child. Beautiful. Their faith put in praxis. |
| Miriam: | Praxis? What happened? |
| Jasper: | Chance. He was their sweet little dream. He had little hands, little legs, little feet. Little lungs. And in 2008, along came the flu pandemic. And then, by chance, he was gone. You see, Theo's faith lost out to chance. So, why bother if life's going to make its own choices? |
| | |
| --- | --- |
| Julian Taylor: | Y'know that ringing in your ears? That 'eeeeeeeeee'? That's the sound of the ear cells dying, like their swan song. Once it's gone you'll never hear that frequency again. Enjoy it while it lasts. |
| | |
| --- | --- |
| Jasper: | Pull my finger |
| Jasper: | Pull my finger. |
| | |
| --- | --- |
| Theo Faron: | It's a girl, Luke. |