Children of Paradise (Les Enfants du Paradis)
(1946)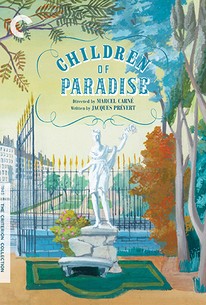 Children of Paradise (Les Enfants du Paradis) Photos
Movie Info
Even in 1945, Marcel Carnà (C)'s Children of Paradise was regarded as an old-fashioned film. Set in the Parisian theatrical world of the 1840s, Jacques Prà (C)vert's screenplay concerns four men in love with the mysterious Garance (Arletty). Each loves Garance in his own fashion, but only the intentions of sensitive mime-actor Deburau (Jean-Louis Barrault) are entirely honorable; as a result, it is he who suffers most, hurdling one obstacle after another in pursuit of an evidently unattainable goal. In the stylized fashion of 19th-century French drama, many grand passions are spent during the film's totally absorbing 195 minutes. The film was produced under overwhelmingly difficult circumstances during the Nazi occupation of France, and many of the participants/creators were members of the Maquis, so the movie's existence itself is somewhat miraculous. Children of Paradise has gone on to become one of the great romantic classics of international cinema. ~ Hal Erickson, Rovi
Critic Reviews for Children of Paradise (Les Enfants du Paradis)
Audience Reviews for Children of Paradise (Les Enfants du Paradis)
It's easy to see why Marcel Carné's "Children of Paradise" is considered by many to be an all-time great of the medium. It's a sprawling, lavish production that was made under extraordinary circumstances (during the Nazi occupation of Franch). But in the year 2011 (and in the humble opinion of this reviewer) the film does feel a tad dated from a narrative standpoint. That said, the film is effortlessly likeable and entertaining, and even at over three hours never drags or feels like a chore. Though it doesn't hold up in the same way that say... "Notorious" or "It's a Wonderful Life" does, it's still an outstanding achievement that should be considered mandatory viewing.
½
a miracle film made under nazi occupation. a tragic romantic epic of all the mad denizens of the boulevard du crime. wonderful
Stella Dallas
Super Reviewer
1945 French satire, if you like Moulin Rouge, or La Haine check this one out.
Alexander Wilson
Super Reviewer
Children of Paradise (Les Enfants du Paradis) Quotes
There are no approved quotes yet for this movie.