Les enfants du siècle (The Children of the Century)
(1999)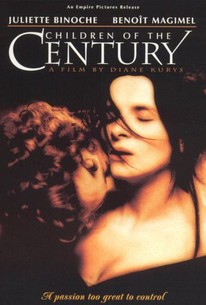 Les enfants du siècle (The Children of the Century) Photos
Movie Info
While pioneering pre-feminist author George Sand has been the subject of several film biographies focusing on her ten year relationship with Frederick Chopin, Les enfants du siècle looks at an earlier period in Sand's life, in particular her stormy romance with poet Alfred de Musset. In the early 1830's, Baroness Dudevant (Juliette Binoche) has abandoned her husband and arrives in Paris with her children in tow as rioting divides the city. The Baroness decides to reinvent herself and pursue a career as a writer; she renames herself George Sand, begins wearing clothes modeled after men's suits, and smokes cigarettes while penning manifestos denouncing marriage and affirming a woman's right to sexual satisfaction. Alfred de Musset (Benoit Magimel), a noted author, finds her brash nature fascinating, and they become first friends, then lovers as he helps her craft her literary efforts. However, Sand is six years older than de Musset, which leads to a severe conflict with his family; the couple heads to Venice in search of escape and inspiration, but Alfred decides that he prefers the city's brothels to George's company and that they should keep separate rooms from now on. George makes the acquaintance of an Italian doctor, Pagello (Stefano Dionisi), with whom she has a passionate affair; the realization that he's driven her into the arms of another man proves too much for Alfred, who returns to France. Eventually, George leaves Pagello and gives Alfred another chance, a decision she comes to regret. Les Enfants du Siecle had its world premiere at the 1999 Toronto Film Festival.
Critic Reviews for Les enfants du siècle (The Children of the Century)
Audience Reviews for Les enfants du siècle (The Children of the Century)
½
In "The Children of the Century," Aurore(Juliette Binoche) has taken her children to Paris in1832. And then instantly realizes that might have not have been the smartest move when they come across yet another insurrection and are confronted by all the resultant blood in the streets. Still, she does well when members of polite society like actress Marie Dorval(Karen Viard) take them in. Who almost instantly reject them due to Aurore, writing under the name George Sand, preaching some very forward thinking ideas. At least, Alfred de Musset(Benoit Magimel) is paying attention, whenever he is not busy whoring, that is. "Children of the Century" is a handsomely produced and well-acted biopic that seeks to capture the life of an unusual woman living in tumultuous times, with an emphasis on 1830's medicine. As such, Juliette Binoche may not exactly hit the right notes as a drag king but that's okay as George Sand is not quite yet George Sand, as this is near the beginning of her literary career set during one of her many affairs of the heart that is told from her distinctive point of view.
Visually, this is beautiful. Binoche gives a strong performance as Sand, Magimel is solid as an impetuous, and depraved, de Musset. Costumes, and backdrops, are spectacular. The acting top notch. So why wouldn't I love it? I suppose it's the-- I love him, I hate him, I love him, I hate him, I love him, I hate him, I love him....2.5 hours later, the end. This pretty much sums up this movie for me.
Cynthia S.
Super Reviewer
A desperately tragic overly romanticised film. It's a wonderful piece of costume drama that relishes in the recreation of the 19th century. The dialogue is at the front of a well plotted screenplay, which excellent sparring words between Binoche and Magimel. It really does successfully show a couple who are not right for each other but can't control their absolute pure love for one another. Magimel's defiance of his family is to be expected in such a film, but his genuinely moving connection with Bincohe's children is a wonderful sight. It's hard to discern between Magimel's sometimes madness and his selfishness. Like watching a car crash in slow motion the outcome is inevitable, and Bincohe's sudden relationship with the Italian doctor isn't developed enough to make it belieavble. As this is such an important part it affects the rest of the film in a negative way. Impressive though long winded.
Luke Baldock
Super Reviewer
Les enfants du siècle (The Children of the Century) Quotes
There are no approved quotes yet for this movie.