Children Of The Corn: Genesis
(2011)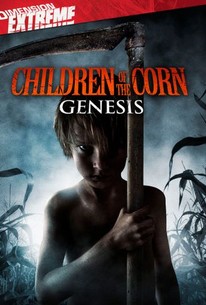 AUDIENCE SCORE
Critic Consensus: No consensus yet.
Children Of The Corn: Genesis Photos
Movie Info
Tim and Allie seek shelter in a remote desert compound after becoming lost and stranded. A strange Manson-like character, Preacher (Drago), reluctantly allows them inside with strict orders to be gone by morning and not wander "where you are not invited." At first, Preacher and his mail-order wife Oksana (Nedeljakova) deny the faint screams and cries that emanate from one of the crumbling outbuildings. When Allie sneaks outside to investigate, she discovers that she and Tim have stumbled onto a bizarre cult worshiping an entity that may -- or may not -- dwell inside a haunted little boy. -- (C) Arc Entertainment
Critic Reviews for Children Of The Corn: Genesis
All Critics (3) | Fresh (1) | Rotten (2)
The lack of children of the corn in "Children of the Corn: Genesis" isn't the film's main issue. The biggest problem it has is that it's not entertaining. It's boring and at 80 minutes, it feels long.
Cheap, lazy, uninspired filmmaking that hopes to coast by on a slick DVD cover and a brand name. Don't fall for it.
While it isn't anything spectacular, Genesis is one of those low-budget movies you could come across on late night television and easily kill a guiltless 80 minutes with.
Audience Reviews for Children Of The Corn: Genesis
½
The last desperate gasp of a dead series, Children of the Corn: Genesis has little to offer. The story follows a married couple that breaks down on the back roads of the California countryside and fall into the hands of a preacher who claims that his son is the vessel of a great evil. The film is extremely light on blood and gore, as there are only four principle characters. And the script really stretches to find a story, and only tangentially relates it to Gatlin and He Who Walks Behind the Rows. Children of the Corn: Genesis is an unsatisfying and lazy return to one of the longest running franchises in horror cinema.
Dann Michalski
Super Reviewer
Ever get the feeling that you have wasted about 10% of your life on a film? Yeah, that was my reaction to the latest film in the infamous 'Children Of The Corn' films. Here is the thing people: after eight bloody films, most of which are so bad I can't stand them, why would you want to carry on this dead beat of a horse? Actually, I don't even like the series, so why am I even wasting my time with this film? The answer is simple: I kind of liked the second adaptation from Stephen King's original short story, so I had some hopes. This film destroyed all those hopes. The first, and main problem, is that this doesn't even follow the mythology of the original story. In fact, except for a very terrible beginning, this film doesn't even remotely feel like it is part of the same series. To put it mildly, this is one of those films you see on television at three in the morning when you can't sleep due to insomnia. Nothing good, nothing decent. My only main question is simple: who's idea was it to even make this film? Who wrote this garbage and thought it would work? Because, sorry to say this: nothing in this film works. The acting is stale, the script is laughable, nothing is scary, and it is kind of insulting to fans of horror, Stephen King, and to Children Of The Corn in general. As you can tell, I have nothing good to say about this film. It's bad, it's awful, it needs to be burnt forever. Take my advice: just skip this film. If it is on television, you will get a more better horror story watching the news channel.
Zach Brehany
Super Reviewer
½
How does a short story spawn eight feature films? It's simple, nothing is scarier or more creepy than children who kill people. The eighth film, like several of the other sequels, doesn't take place in Gatlin, and is very loosely tied to the original story. I give this movie credit for possibly being the creepiest children of the corn, and for doing it without much of the gore the other films featured. A lot of the credit goes to veteran movie actor, Billy Drago, who is just creepy by nature. There is no denying the film is creepy, but is it good? No, not really! The story is very slow at times, inconsistent, and some what predictable. Genesis had a bit more potential than some of its predecessors, but in the end, despite the creepy vibe it gives off, it's just another really bad sequel that we didn't need.
Todd Smith
Super Reviewer
Children Of The Corn: Genesis Quotes
There are no approved quotes yet for this movie.