The Children's Hour
(1961)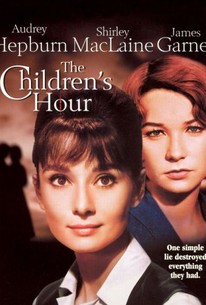 The Children's Hour Photos
Movie Info
Based on the 1934 play by Lillian Hellman, The Children's Hour is set at an exclusive girl's school managed by best friends Audrey Hepburn and Shirley MacLaine. When student Karen Balkin is punished for one of her many misdeeds, the mean-spirited youngster rushes to her wealthy aunt Fay Bainter, and, randomly choosing a phrase she has undoubtedly read in some magazine, accuses Hepburn and MacLaine of having an "unnatural relationship." As Balkin's lies grow in viciousness, the student's parents withdraw their children from the school. Hepburn and MacLaine sue Bainter for libel, only to lose their case when MacLaine's aunt Miriam Hopkins refuses to testify as a character witness. The trial takes its toll on the relationship between Hepburn and her boyfriend James Garner. When Bainter discovers that her niece has been lying, she tries to make amends, but it is too late. Director William Wyler had also helmed the first film version of Children's Hour, 1936's These Three, which due to censorship restrictions of the time did without the lesbian angle (the little girl's accusations involved a supposed romantic triangle between the two ladies and a male friend). Miriam Hopkins, who plays a supporting role in The Children's Hour, originally essayed the Shirley MacLaine role in These Three.
Critic Reviews for The Children's Hour
Audience Reviews for The Children's Hour
Lillian Hellman, when she mounted the New York play of her work, noted that the piece was more about the damning power of gossip, and the undercurrent of that idea can certainly be seen here, but thanks to a bravura performance by Shirley MacLaine the main topic at hand is never quite off the table or forgotten. Audrey Hepburn shines as well (as does Garner), but then they have little else to do but to pick and play from the handbook of those unrighteously condemned, whereas MacLaine has self-loathing to contend with in spades. The child actress has a mountain to cross as well, convincing the audience of her latent evil intent, and often borrows too heavily from the Nicolas Cage handbook of overdoing it, but all in all the production makes it point, and is resonant.
Kevin M. Williams
Super Reviewer
From a moral point of view, this is a terribly outdated drama (even if daring for then) that serves as a portrait of an ugly time when it would be considered a danger for children to be "exposed" to lesbian teachers - which the film sometimes also seems to agree as being "unnatural."
Carlos Magalhães
Super Reviewer
Thrillers like this, with this amount of tension and political incorrectness, don't get made anymore. Maybe it's because the subject matter is so intense, polarizing, and prejudicial, but sadly, this film still has impact and social significance even fifty years later. Even though it's dealing with homosexuality in a negative light, it is the closest thing to an iconic gay film up to that point. The story deals with a school, run by former college friends, who are working towards the goal of taking on more girls and having a flourishing business. They are very close, and Martha (MacLaine) becomes jealous when Karen (Hepburn) finally sets a date for her wedding to Joe (Garner). A comment, a look, and a shadow lead to a lie, perpetrated by an arrogant child, and leads to both the women being singled out as gay. They lose a libel trial and every one of their students. It's not a story about two women overcoming the lies of a small child, but the destruction that gossip and lies have on the lives of the innocent. Though there are hints that Martha actually is gay, the story deals far more with their descent into bankruptcy, ruin, and depression. It's definitely an actor's film. Hepburn is cool and collected throughout the ordeal, which you can believe because she is the first lady of austere resoluteness. MacLaine acts her younger age, by being emotionally uninhibited at all times. Martha doesn't think through her words before speaking them, and nearly has temper tantrums when the news breaks that she and Karen have been accused of being lesbians. Garner gives his regular stone stiff performance, which works for the film. The real joy to watch in this film is child actor Karen Balkin as Mary, the one who tells the lie. The cunning maneuvers she pulls in blackmailing another little girl to keep perpetuating the lie, can be linked to Salieri bringing down Mozart in the third act of "Amadeus". Though lesbianism isn't given any positive light in this film, it's still a terse thriller that holds up even now.
Spencer S.
Super Reviewer
The Children's Hour Quotes
There are no approved quotes yet for this movie.