Child's Play
(1988)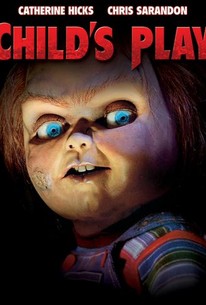 TOMATOMETER
AUDIENCE SCORE
Critic Consensus: Child's Play occasionally stumbles across its tonal tightrope of comedy and horror, but its genuinely creepy monster and some deft direction by Tom Holland makes this chiller stand out on the shelf.
Movie Info
Child's Play seems to have been concocted by a parent who went berserk after standing in line for hours on end to purchase a Cabbage Patch doll in the early 1980s. The film opens with serial killer Brad Dourif taking refuge in a doll factory. Dourif is killed by the cops, but not before he has invoked a voodoo curse which transfers his soul into one of the dolls. That particular doll, nicknamed Chuckie, is unwittingly purchased by Catherine Hicks for her son Alex Vincent. Several murders occur shortly thereafter; all evidence points to Alex, who insists that his cherub-faced doll is responsible. Detective Chris Sarandon, the man responsible for Dourif's death, doesn't swallow Alex's story, but he agrees to investigate because he's sweet on Alex's mom. The slasher-flick ending of Child's Play would seem to have settled Chuckie's hash for good and all, but guess again--the film spawned numerous sequels.
News & Interviews for Child's Play
Critic Reviews for Child's Play
Audience Reviews for Child's Play
Child's Play is one of the cheesiest horror flicks of the 80's, but damn does it know how to entertain. With laughably original dialogue, some decent acting, a twisted doll, and a possessed plot line, Child's Play is just a fun movie. I was a bit disappointed and I did expect to actually be scared, but the film is far too cheesy to be a classic. Yes, it is known as a horror classic, and I can see how, but the fact that I can laugh during it, definitely makes it not worthy of calling great. It has it's thrills and chills, and when it does it's pretty freaky, but overall, Child's Play is just well made above average film.
½
I must be a bit twisted - I love this one, it always makes me laugh. Just can't take Chucky seriously. It is a really good horror, though.
Nicki Marie
Super Reviewer
½
Child's play follows a young boy named Andy who obtains a "Good Guy" doll for Christmas from his mom and discovers that this doll he got for Christmas may be doing things that are causing suspicion in the household after the murder of his aunt. Child's play is one of those movies that the acting is nowhere near perfect in a horror movie such as in "Psycho," but I would come to expect worse from a movie involving a doll that kills people But overall the best performance, like in most slasher films, is the slasher in general, Brad Dourif as Chucky. Dourif does a magnificent job at making Chucky both a hysterical character and even a tad creepy character. The other actors do decent jobs as well. The child who plays Danny does a good job and Catherine Hicks does a decent job as well as Danny's mother who's trying to cope with all this chaos going on. Chris Sarandon does a exceptionally good job, which you may remember Sarandon from Fright Night and Nightmare before Christmas. Overall, decently acted but nothing spectacular. Child's play is pretty light on effects for a horror movie but when that doll comes to life the effects actually look pretty decent, and by that I mean two levels up from a Muppet. The effects do look cheesy compared to the movies now but the effects make the film enjoyable and at least pleasing to sit through and even after the doll is burned up the effect looks pretty good, especially when parts of him start coming off. Even if it was meant to be scary or not. Overall Child's play may not be one of the best horror movies I've seen and it definitely is goofy compared to a lot of other horror movies at the time, but it does a decent job at setting up the story early on and the acting is pretty good for a movie with this goofy of a premise. While this film does fail bad at trying to be scary it at least is enjoyable and entertaining for any fan of these kind of films. So overall I'd give this movie a watch if you have the time for a cheesy but enjoyable film, even if it isn't that scary.
Michael Edwards
Super Reviewer
Child's Play Quotes
| | |
| --- | --- |
| Charles Lee Ray: | Oh god I'm dying. |
| | |
| --- | --- |
| Chucky: | Well John it's been fun, but i gotta go, i have a date with a 6 year-old boy. |
| Chucky: | Well, John, it's been fun, but I gotta go. I have a date with six-year-old boy... |
| | |
| --- | --- |
| Karen Barclay: | I said talk to me, damn it. Or else I'll throw you in the fire. [Chucky comes alive] |
| Chucky: | You stupid bitch! You filthy slut! I'll teach you to fuck with me! |
| | |
| --- | --- |
| Chucky: | i bled and it hurt like a son of a bitch |
| Chucky: | It hurt. It hurt like a son of a bitch, it even bled! |