Child's Play 2
(1990)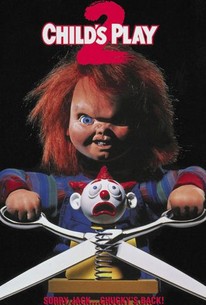 Movie Info
The demonic doll known as Chucky (voice by Brad Dourif) is back to haunt little Andy Barclay (Alex Vincent), now being raised by foster parents (Gerritt Graham, Jenny Agnutter).
News & Interviews for Child's Play 2
Critic Reviews for Child's Play 2
Audience Reviews for Child's Play 2
It only took one movie for Chucky to be hobbled by the high-wire act of balancing malevolence and wisecracking. In the inferior, kitschy 'Child's Play 2', Chucky undergoes a complete Freddy Krueger remodeling and he lobs postmortem jokes ad nauseum ("You've been veeeerrry naughty, Miss Kettlewell!") to the point where he is more a standup comedian than an unstoppable force. The myopic disbelief of Andy's foster parents is especially aggravating for the viewers because their behavior towards him becomes cruel and we are stuck in a loop of Andy claiming Chucky is alive to everyone's chagrin. The child-in-peril climax in the toy factory is opalescent but it is definitely manipulative with Chucky nearly stabbing Andy with his new knife extremity. Suddenly, the deaths are more fatuous than before (a cheesy electrocution, doll eyes violently inserted into a maintenance man, Chucky's Mr. Creosote explosion, etc.). I know part 3 is viewed as the weakest in the original trilogy but I firmly believe 'Child's Play 2' was the tipping point in quality.
Cory Taylor
Super Reviewer
Going into "Child's Play 2," you definitely need to realize that these films are only going to get cheesier and you have to be in it for the entertainment value rather than a good story or reason for Chucky's return, because it really doesn't make sense if you think hard about it. This film follows Chucky as he is rebuilt by the company in order to study, but what they don't intend is to have the soul come back with him and go back to terrorizing Andy. It's a very schlocky film with laughable screenwriting and ham-handed actors, but it's fun when it needs to be. The last 30 minuets is extremely enjoyable and reminds you why you have been a fan of the series after the first film. it's nothing special, but it get's the job done.
½
[My predicted rating 2] I would have to say that Child's Play 2 was probably more entertaining than the first, not a great film, but watchable as part of the series.
Lady D'arbanville
Super Reviewer
Child's Play 2 Quotes
| | |
| --- | --- |
| Chucky: | Come on! Step on it! |
| Kyle: | Fine, we'll just get pulled over again.. |
| Kyle: | Fine, we'll just get pulled over again. |
| | |
| --- | --- |
| Chucky: | Just shut up & drive! |
| | |
| --- | --- |
| Chucky: | Goddamn women drivers!! |
| Chucky: | Goddamn women drivers! |
| | |
| --- | --- |
| Chucky: | You've been very naughty Miss Kettlewell. |