Child's Play 3
(1991)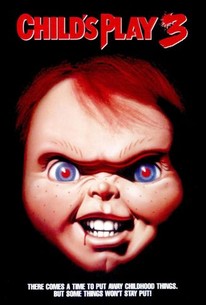 Movie Info
Set eight years after the last Child's Play installment, another doll is possessed by the spirit of Charles Lee Ray (voice by Brad Dourif), and the demon follows his usual target Andy Barclay (Justin Whalin) to a military academy.
Critic Reviews for Child's Play 3
Audience Reviews for Child's Play 3
Ala a Tim Burton ode to the classic monsters movie of yore, the third installment is inchoate inside a cobweb-infested factory. Suddenly the remains of Chucky's mutilated carcass trickles into the modeling plastic and we follow down the whirlpool. This lends the film an old-fashioned, gothic classiness which it sorely required after the buffoonery of part 2. Obviously the novelty of an animatronic Chucky has been winnowed away but Brad Dourif's vinegary Jack Nicholson vocals still crackle with ire. Moreso than the previous entry, the brambly 'Child's Play 3' is a mean-spirited enterprise and it fully capitalizes on the stringent military setting for its heinous possibilities (ex. Dud grenades are replaced by live ones during a wargame exercise). Flayed as a "troublemaker", Andy Barclay (Justin Whalin) is the emotionally atrophied core of the story and adult figures simply aren't amenable to his plight about "killer dolls". His odyssey from bright-eyed childhood to institutionalized suppression is sorrowful and it is vicariously infuriating when his sergeants and peers dismiss him. However, the film still rehashes the voodoo synopsis of the first two and the deus ex machine with Tyler (Jeremy Sylvers) as the new vessel for Chucky's soul is an otiose excuse for disavowing continuity. The funniest death scene is when Chucky's pint-sized appearance causes a heart attack to which Dourif deprecates "you gotta be fucking kidding me". I can't defend it on an inventiveness level, but 'Child's Play 3' is an inimitably sinister, underrated trek back to the Good Guy mythos and the funhouse finale is like a florid Dario Argento throwback with red and purple gel lighting galore.
Cory Taylor
Super Reviewer
½
All of Chucky's sequels are kinda of bad written, it have it's moments, but what saves is the character of Chucky and Andy, and later Tiffany and Glen, toughter with the black comedy and horror scenes. But this one, is the worst of the series. Alex Vincent has gone and Justin Whalin didn't had made a good job as Andy Barclay. Dispite that, we can see some funny lines of Chucky with the great acting by Brad Dourif.
Lucas Martins
Super Reviewer
The third instalment in the Chucky franchise is utter garbage that should not have seen the light of day. Later on in Andy's life, he joins the military and just when all seems good, the doll is mailed to his camp after being rebuilt once again. Really? As soon as the box is opened, all hell breaks loose once again... I wish I could say I enjoyed this film in certain scenes, but even that is not enough. There is so much bad dialogue, boring character moments, and the whole army setting makes it feel very distant from the series. Overall, "Childs' Play 3" is horror at it's lowest point. It almost feels like a spoof of the first two films. I will never watch this again.
Child's Play 3 Quotes
| | |
| --- | --- |
| Voice of Chucky: | Im bad. Reeaal bad |
| | |
| --- | --- |
| Chucky: | Where are you, ya little shit? |
| | |
| --- | --- |
| Chucky: | Aw, you've gotta be fucking kidding me. |
| | |
| --- | --- |
| Chucky: | Right. Just think, Chucky's gonna be a bro. |