Chill Factor
(1999)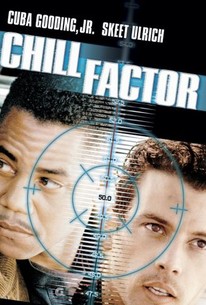 Movie Info
In this action thriller, the only things standing in the way of world destruction are two guys in an ice cream truck. On a remote island in the South Pacific, a secret weapons project (code name "Elvis") goes wrong, and a new chemical weapon, safe when frozen but deadly when thawed, is allowed to escape. Eighteen soldiers are killed, leaving behind only the scientist who created the formula and the officer in charge of the project, who is saddled with most of the blame. Ten years later, Tim Mason (Skeet Ulrich) is working at a diner in Montana when an old friend, Dr. Richard Long (David Paymer), is seriously wounded by Maj. Andrew Brynner (Peter Firth). It seems that Dr. Long helped create Elvis and Maj. Brynner was the officer who took the fall for the disaster ten years ago. Near death, Long gives Elvis to Mason and tells him that it has to be kept solidly frozen and delivered to Fort Magruder, 90 miles away. But how to keep it at zero degrees until then? A logical solution presents itself when Arlo (Cuba Gooding Jr.), who drives an ice cream truck, makes a delivery to the diner. Mason drafts Arlo into helping him transport Elvis to safety, and before long Brynner's men are hot on the trail of the icy chemical weapon. First-time director Hugh Johnson learned his craft in part through his work as a cameraman for Ridley Scott: he was the cinematographer for White Squall and G.I. Jane.
Critic Reviews for Chill Factor
Audience Reviews for Chill Factor
½
Let me start off by saying that "Speed" is one of my all-time favorite movies, and that "Chill Factor's" plot centers a lot around "Speed's" main idea. Luckily for me, a movie taking the formula of a much more successful and original movie hasn't ever bothered me as much as it does most of the movie critics, just as long as it's also a good movie, which "Chill Factor" is. Tim Mason (Skeet Ulrich) and the driver of a stolen ice cream truck, Arlo (Cuba Gooding Jr.), get tangled up in a plot in which they must keep a chemical weapon from blowing up and killing millions of people. If this chemical weapon that's called 'Elvis' gets up to 50º, it will literally explode instantly. But that's not all, they have a group of madmen that are tracking them down because they want to get a hold of Elvis. The chemical weapon Elvis, not the singer who a lot of people think is still alive and kicking. Even though "Chill Factor" is a ripoff of one of my favorite movies of all time, I have to admit that it is a very entertaining film. The script, plot, acting, and everything else about this movie is just average, but Cuba Gooding Jr. keeps it from being a dud. Throughout "Chill Factor," he is hilarious and like always, does a great job of acting. The other things that keep "Chill Factor" from being a not so good movie is that it's interesting and somewhat suspenseful at times. If you liked "Speed," or even if you don't, I recommend at least seeing "Chill Factor." NOTE: That was my Amazon review from the year 2001. Not bad for a "Speed" ripoff.
Jason Owens
Super Reviewer
Ridiculous buddy thriller in which Cuba Gooding's ice cream delivery man gets roped into hauling unstable chemical weapons around in his truck, pursued by moustache twirling villain Peter Firth. It's obviously trash, but Gooding and Ulrich's good-natured banter keeps it watchable in a reasonably entertaining comic action no-brainer.
½
Fine action with Skeet Ulrich and Cuba Gooding Jr. go on the lam with a deadly biological weapon to keep it out of the hands of a demented arms dealer. Stitched together from pieces of better movies including Speed and Raiders of the Lost Ark and hammered across with clumsy enthusiasm, the film quickly becomes noisy and overbearing.
Dean McKenna
Super Reviewer
Chill Factor Quotes
There are no approved quotes yet for this movie.