China Moon
(1994)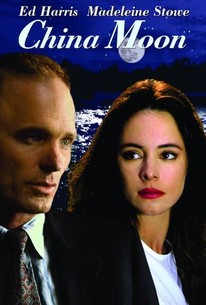 Movie Info
China Moon is a slick noir thriller, nice to look at, well-acted and directed, but ultimately predictable, even to its "surprise" ending. Kyle Bodine (Ed Harris) falls in love with Rachel Munro (Madeleine Stowe), the unhappily married wife of a drunken Southern aristocrat Rupert (Charles Dance). One night, tired of his beatings and abuse, Rachel kills Rupert, apparently in self-defense. Kyle helps her cover-up the crime and establish an alibi. However, Kyle's young partner Lamar (Benecio Del Toro) suspects Rachel of the murder and begins an investigation. In fairly predictable plot twists reminiscent of the far superior Body Heat Kyle finds his life falling apart. While the plot is contrived, the performances are convincing, particularly that of Madeline Stowe as the treacherous Rachel. Ed Harris gives the character of Kyle depth and complexity. Cinematographer-turned-director John Bailey gives the film a great, dark, rain-slicked noir look and feel and lingers on details which take an otherwise predictable mystery/thriller and make it seem like a game of wits.
Critic Reviews for China Moon
Audience Reviews for China Moon
½
I didn't find Paper Moon that predictable. I enjoyed the twists and turns of the plot and I enjoyed the acting of Madeline Stowe and Ed Harris, the two main characters. I guess crime doesn't pay...
Homicide Det. Kyle Bodine (Ed Harris) is a veteran of the force who knows the ins and outs of every crime scene. He meets the beautiful and mysterious Rachel (Madeline Stowe), and they begin a steamy relationship. But then he finds out she's married to a rich banker called Rupert (Charles Dance) who's a serial adulterer and wife beater. During a particularly heated confrontation with her husband, Rachel shoots and kills Rupert in self defense and then persuades Kyle to assist her in disposing of the body and covering up the evidence of what has happened. Kyle carries out these tasks with his usual efficiency but problems arise when the body is discovered and his rookie partner Lamar Dickey (Benicio del Toro) discovers some clues which lead to the finger of suspicion being pointed at Kyle.
There are enough twists and turns to keep you off-balance in this story of passion, treachery and murder. The comparisons to "Body Heat," "No Way out" and "Double Indemnity" are understandable but the joy I get in watching films of this genre is trying to predict how things are going to go wrong and there was a twist ending I openly acknowledge I did not see coming. Early in the film the veteran Harris chastises his young partner for not being observant. I guess I too was not paying attention to the small details lol.
Audrey Lush
Super Reviewer
China Moon Quotes
There are no approved quotes yet for this movie.