China Seas
(1935)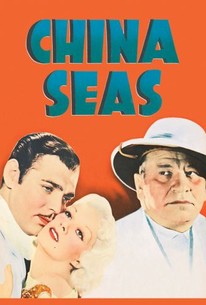 Movie Info
China Seas proved that the recently imposed Hollywood production code had little if any effect on the popularity of MGM sex symbols Clark Gable and Jean Harlow. Gable plays the captain of a tramp steamer chugging between Singapore and Hong Kong. Harlow is Gable's ex-main squeeze, a "woman of the world" who books passage on the steamer at the same time that another of Gable's former loves, aristocratic Rosalind Russell, shows up. Wallace Beery plays Gable's supposedly lovable first mate, who is actually in league with a gang of pirates who plan to steal the gold shipment being carried in the hold of the steamer. Harlow tumbles to Beery's secret, but is unable to convince Gable, who is sore at Harlow for mean-mouthing Russell. Out of pique, Harlow casts her lot with the crooked Beery, but when the pirates attack the steamer, she returns to Gable's side. A subplot involves the regeneration of ship's mate Lewis Stone, who has been cashiered out of the navy for cowardice and who redeems himself during the final battle. Based on a novel by Crosbie Garstin, China Seas is a programmer at heart, but is decked out with full A-picture trappings by MGM producer Irving Thalberg.
Critic Reviews for China Seas
Audience Reviews for China Seas
½
One of Hollywood's "exotic" features, with Gable as a tough sea captain with a past and Harlow as the goodtime woman who loves him. Rosalind Russell stirs up the mix as the "good" woman who wants to reform him ... will he go the straight and narrow and restore the social dignity that that implies or go with the woman with the bad reputation, badly bleached blonde hairdo and no bra (yeah, she's trouble, but it"s the personal dignity of being your own man). Decisions, decisions. There's plenty of action along the way, redemption and pirates too. Not boring at all.
Kevin M. Williams
Super Reviewer
½
Clark Gable and Jean Harlow team up again after the success of Red Dust and make China Seas better than it ought to be. Gable is ship captain Alan Gaskell who has to deliver passengers safely from Hong Kong to Singapore because of the waters being overrun with pirates. The first time you see Gaskell it is apparent he is coming in from an over-night bender and makes it to his ship just as it's about to sail. His ex-girlfriend Dolly (Ms. Harlow) shows up to razz him about not being committed to their relationship. Also on board is Sybil Barclay (Rosalind Russell), a woman Alan fancied years ago but she married someone else. Well, Ms. Barclay is a widow now and hopes of a relationship is presented before Alan's delight and Dolly's anger. Also on board is Dolly's old drinking Buddy MacArdle (Wallace Beery) who has a hidden agenda. Throw in some rough weather, a jewel thief, the deadly pirates, and a coward of an officer looking to make amends and China Seas has a lot going on. There is a lot of unintentional humor that kinda throws it off every now and then, mainly from Harlow and Beery. But it doesn't ruin the whole movie. Not as good as Gable and Harlow's previous film Red Dust, but still worth a look. ------------------------------------------------------------------------------------------- Captain Alan Gaskell: Now wait a minute, Dolly! You and I are friends. We've had a lot of fun together, and, as far as I'm concerned, you're #1 girl in the Archipelago, but I don't remember making any vows to you, nor do I recall your taking any.
monty hawes
Super Reviewer
½
"china seas" is directed by tay garnett who also helms the classic noir "the postman always rings twice"...it has every gable/harlow formulic element adopted from their former collaboration "red dust": oriental background, racist insinuation, sexist inequality, man's madonna complex with sensual blonde and prim brunette, luscious harlow swoons over reluctant gable whose heart is taken by the demure brown-haired lady, then eventually harlow captures gable back with a twist. clark gable is gallant captain alan gaskell who discards aside his former flame ,showgirl chinadoll (harlow) with a foul humor, while he re-encounters his long-lost crush for years, refined British dame sybil (rosalind russel). chinadoll attempts to entince gaskell's attention again while she finds him enamour of his english girlfriend who he plans to marry. harlow pulls it off clumsily by insinuating gable's crude disdemeanors at the past on the dinner table, growling about her wretched heart in his cabin, making excuses to approach him by putting her cigarettes in his drawer. she tries everything she could but gaskell still dismisses her as obnoxious, a desperate girl who could hook up with any sailor. while rosalind russuel behaves tastefully as a obedient love interest who withdraws wisely at their confrontation. as harlow groans "i ain't like that english dame who gets brought up to say the right thing, i speak whatever inside my mind" meanwhile wallace beery is jamesey, chinadoll's courting admirer who schemes to backstab captain gaskell with chinese piracy then captures chinadoll as his own since she has been frequently demeaned by gaskell. infuriated by gaskell's insult when she sneaks to his cabin to warn him, chinadoll steals the key of arsenils for jamesey. then the ship gets robbed for the first time after the trainwreck of typhoon. gaskell's foot also gets swayed tightly by oriental turturer. the villain commits suicide while the blonde bashes out her agony of love as treason confession "yes! i steal your key and give it to jamesey, i would have stood backward back with you, figure it out yourself why i don't, you teach me something i have never known about myself, when a woman can love a man right down her fingertips, she could hate him the same way as well...go call your cop, if you could ditch it out then i could take it!!!!"...then the fabulous line of wallace beery in his last breath would be "loving you is the only decent thing i have ever done in my whole life, even it's obviously a mistake." "china seas" is more clever than "red dust"..."red dust" is more of gable's concession to the bourgeois values by giving mary astor away to gratify her husband's dreams of marital happiness, and harlow is more like a trophy of solace, a substitute of ease, a woman closer to his proteriat upbringing would make a better spouse as he shamelessly cheers "we're all rotten people in this stinky country". additionally astor's role seems like a pretentious closet bitch who likes to pose goody-goody, and that role has been brought back to life by grace kelly again in its remake "mogaboo" but "china seas" is a recuperated love of pathos, it is harlow's ignited hatred which hunts gable back as avengeful betrayl is somehow an intensified way to express affections. when he utters sympathetically "you hard-headed crazy little fool", he's hers. so he decides to resign his position in court to rescue harlow from hanging, and also nullifies the chance of entrance into a higher society, "yes! i love her!! but not the way i do you"...as he glances her being sent to the police, she looks up to wave farewell, he smiles warmly then the movies closes. "china seas" has engrossing melodramaticity, gut-wrenching villainy and the enchanting oriental backset to gloss the scenes. the first shoot of panoramic view of a thousand ships in the china seas is impressing, and the picturesque set of hong kong dock is turbulently prosperous. it has kaleiscopic scenes of orient despite the usage of its disdains to its people, such as the bitter-tongued annoying oriental lady as the stereotyped asian cosmopolitan who humuliates harlow by calling her the cheap liquor before the delicate wine, the lives costed by typhoon catastrophe are all asians who get run over by the giant machine and gable sneers at the chinese pirates who are also the negative oritental stereotype as insidiously inscrutable. put racism and sexism aside, "china seas" is vivid and vibrant with enough dramaticities and exotica to pay audience's interests. and this time, gable/harlow romance is managed in a more chivalric way, and the script does come up with a more proper twist to nobilize clark gable, and more "romantic" in its partriachic pattern. the wardrobe of jean harlow's is also another fashion accomplishment by adrian, and some dresses harlow wears in "china seas" should have become stylistic milestone. adrian pastiches the styles of occident and orient well in several night gowns with dragon and pheonix upon the backside. except the one dress which bares harlow right breast(a blatant gratitude for male audience), all the other brightful suits are sorta neat and lovely. besides, clark gable also looks very dashing in white navy suit of captain when his "diamond in the raw" phallic image mellows.
Veronique Kwak
Super Reviewer
China Seas Quotes
There are no approved quotes yet for this movie.