The China Syndrome
(1979)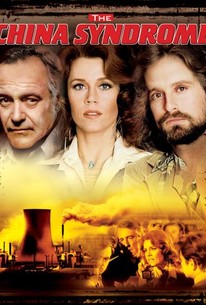 TOMATOMETER
AUDIENCE SCORE
Critic Consensus: With gripping themes and a stellar cast, The China Syndrome is the rare thriller that's as thought-provoking as it is tense.
The China Syndrome Photos
Movie Info
A true nailbiter, The China Syndrome is a potent harbinger of the potential devastation that can be wrought when humans attempt to harness an energy source they don't fully understand, an energy that can leave no leeway for such human foibles as avarice and sloth. Most of the story is set at a small nuclear reactor in California and centers on a free-wheeling cameraman, the chief engineer at the reactor, a man who truly believes that nuclear energy is a safe and efficient form of power, and a female reporter who is trying to prove that she is better suited to hard news than the never-ending stream of fluff pieces she is handed. The trouble begins when the reporter Kimberly Wells (Jane Fonda) and her cameraman Richard Adams go to the reactor to film a story. While speaking with engineer Jack Godell (Jack Lemmon) in the plant something goes horribly wrong. During the ensuing panic, Adams continues filming and captures some potentially damning information on his camera. When it is safe to leave, the newspeople quickly leave and race back to their station. Unfortunately, the station managers will not show the story, for fear of generating wide-spread panic. They take the film, but later, the cameraman steals it back to show to nuclear experts. Meanwhile, Godell becomes increasingly frustrated when his superiors refuse to listen to him. He knows that something is terribly wrong at the plant, but they are more interested in finances and public relations, and cover the entire matter up. Against orders, Godell continues investigating and learns that cost-cutting in the plant's construction has compromised its safety. If something isn't done soon, the plant could cause an unprecedented catastrophe. In desperation, he breaks into the reactor's main control room and threatens to kill his co-workers unless the populace is warned and the reactor shut down. The only ones he allows in with him are the newspeople Wells and Adams so they can broadcast his statement. From here, the drama becomes psychological as Godell begins to break down before Wells and Adams arrive. At the same time, the reactor administrators try to portray Godell as crazy. Adding to the tension is the fact that the reactor is very close to a breakdown and could go at any moment. Though not all viewers appreciated the film's unwavering anti-nuclear sentiments, it proved to be chillingly prophetic; only a short time after its release the nearly catastrophic nuclear reactor accident at Three Mile Island occurred.
Critic Reviews for The China Syndrome
Audience Reviews for The China Syndrome
An effectively tense thriller that must have been even more terrifying when it came out, when fear of nuclear power was greater, and it is very well directed (the car chase scene is nerve-wracking) and has three amazing performances from its leads, especially Jack Lemmon.
Carlos Magalhães
Super Reviewer
½
A fantastic true to life film, with great actors, and intense suspense. I loved this movie and I highly recommend it.
½
Jack Lemmon plays a shift supervisor at a nuclear power plant who narrowly averts a core meltdown while being surreptitiously filmed by Jane Fonda and Michael Douglas' visiting TV news crew. When Lemmon's superiors pooh-pooh his reservations about the safety of the plant in their haste to get back into production, he turns whistle-blower. The China Syndrome, which with uncanny prescience was released just 12 days before the partial meltdown at Three Mile Island, is a hybrid of two of the genres most closely associated with the 1970s, the paranoid conspiracy thriller and the disaster movie. Intelligent, suspenseful and brilliantly acted, especially by Lemmon in one of his great 'straight' roles, my only reservations are that it hasn't aged especially well, and Michael Douglas drives me crazy every time he says the word 'nuclear'. It's not 'nucular', you asshole!
The China Syndrome Quotes
There are no approved quotes yet for this movie.