Chinatown
(1974)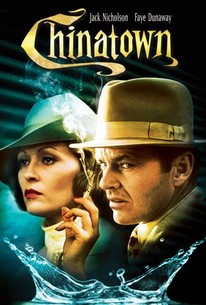 TOMATOMETER
AUDIENCE SCORE
Critic Consensus: As bruised and cynical as the decade that produced it, this noir classic benefits from Robert Towne's brilliant screenplay, director Roman Polanski's steady hand, and wonderful performances from Jack Nicholson and Faye Dunaway.
Movie Info
"You may think you know what you're dealing with, but believe me, you don't," warns water baron Noah Cross (John Huston), when smooth cop-turned-private eye J.J. "Jake" Gittes (Jack Nicholson) starts nosing around Cross's water diversion scheme. That proves to be the ominous lesson of Chinatown, Roman Polanski's critically lauded 1974 revision of 1940s film noir detective movies. In 1930s Los Angeles, "matrimonial work" specialist Gittes is hired by Evelyn Mulwray (Faye Dunaway) to tail her husband, Water Department engineer Hollis Mulwray (Darrell Zwerling). Gittes photographs him in the company of a young blonde and figures the case is closed, only to discover that the real Mrs. Mulwray had nothing to do with hiring Gittes in the first place. When Hollis turns up dead, Gittes decides to investigate further, encountering a shady old-age home, corrupt bureaucrats, angry orange farmers, and a nostril-slicing thug (Polanski) along the way. By the time he confronts Cross, Evelyn's father and Mulwray's former business partner, Jake thinks he knows everything, but an even more sordid truth awaits him. When circumstances force Jake to return to his old beat in Chinatown, he realizes just how impotent he is against the wealthy, depraved Cross. "Forget it, Jake," his old partner tells him. "It's Chinatown." Reworking the somber underpinnings of detective noir along more pessimistic lines, Polanski and screenwriter Robert Towne convey a '70s-inflected critique of capitalist and bureaucratic malevolence in a carefully detailed period piece harkening back to the genre's roots in the 1930s and '40s. Gittes always has a smart comeback like Humphrey Bogart's Sam Spade and Philip Marlowe, but the corruption Gittes finds is too deep for one man to stop. Other noir revisions, such as Robert Altman's The Long Goodbye (1973) and Arthur Penn's Night Moves (1975), also centered on the detective's inefficacy in an uncertain '70s world, but Chinatown's period sheen renders this dilemma at once contemporary and timeless, pointing to larger implications about the effects of corporate rapaciousness on individuals. Polanski and Towne clashed over Chinatown's ending; Polanski won the fight, but Towne won the Oscar for Best Screenplay. Chinatown was nominated for ten other Oscars, including Picture, Director, Actor, Actress, Cinematography, Art Direction, Costumes, and Score.
News & Interviews for Chinatown
Critic Reviews for Chinatown
Audience Reviews for Chinatown
In the 1970's a bunch of American filmmakers and actors were given a bunch of money and told to just go away and make movies. And that they did. The consistent results led to the 70's arguably being the best decade in cinema that America has ever produced. We were gifted such classics as Taxi Driver, One Flew Over the Cuckoo's, Mean Streets, The Godfathers and Dog Day Afternoon. Chinatown is another of those films that can be considered a classic among this elite list and one of a few from this era of filmmaking that time has been most kind to. Plot: In 1937 Los Angeles, private detective JJ 'Jake' Gittes (Jack Nicholson) specialises in matrimonial/cheating spouse cases. When he is hired by Evelyn Mulwray who suspects her husband Hollis - a high-profile engineer - of having an affair, he gets on the case and produces photographs of him with a young girl. It soon transpires that Jake was hired by an impersonator and not the real Mrs. Mulwray (Faye Dunaway). When Hollis is found dead by drowning, Jake finds himself involved in a complex web of deceit involving murder, incest, and corruption that are all related to the city's water supply. Opening with Jerry Goldsmith's seductive and evocative noir score, Chinatown establishes it's mood from the very opening credit sequence and a perfect introduction of what to expect. Paying homage to the traditional gumshoe approach of Humphrey Bogart's Sam Spade and Philip Marlowe, Roman Polanski has a confident handle on Robert Towne's meticulously detailed screenplay. No sooner are we introduced to Private Investigator Jake Gittes as he surveys the sun-kissed lands of Los Angeles while applying the tricks of his trade to tail and investigate the latest of his infidelity cases. Like all good noir's, however, our doggedly determined P.I. soon stumbles onto something much bigger. In this case, the possibility of murder and the financial benefits of gentrification. As a result, Chinatown becomes a labyrinthine puzzle of a wider political spectrum that reaches far beyond anything expected and where nothing is quite as it seems. It's apparent from the offset that Chinatown is an impeccably crafted film with a measured pace and an attention to detail that has rarely been matched. There's so much on display that it's obvious that the entire cast and crew are operating at the top of their game; Richard Sylbert's production design perfectly captures the look and feel for 1930's L.A. and it's complimented greatly with John A. Alonzo's sumptuous cinematography. It's the twists and turns of Towne's Oscar winning script that impress the most, though. He keeps us at arms length for the majority of the film and never forces his hand a minute too soon. Nothing is rushed here as it marvels in patience. Even the title of the movie is elusive and doesn't fully make sense until the film is given time to play out. In the meantime, Towne and Polanski tease with smidgens of information peppered throughout the narrative. For the first time viewer this could be a slight challenge but Chinatown has grown in its stature over the years because it's has replay value. In fact, it demands it. This is not a film that can be appreciated in one sitting but if invested in, it all comes together masterfully. Even Jack Nicholson and his penchant for grandstanding is kept to a minimum. Nicholson keeps his usual histrionics at bay and although he displays flashes of his energetic approach to a character, his Jake Gittes is a far more reserved performance. Oscar nominated for his work, some still claim this to be Jack's best performance and it's not hard to see why. An elusive masterpiece of mystery and intrigue. The beauty of Chinatown's narrative lies in the deceitful lies told by it's characters. So much of the dialogue and interactions are not what they seem and it maintains a sense of secrecy and mistrust that the story and film thrive on. At one point, John Huston's callous and calculated Noah Cross says... "You may believe you know what you're dealing with but you don't" - this quote, in itself, sums up the film which also has a knock-out reveal that you, simply, don't see coming. It may be blasphemous to some (if not many) but my favourite of the sub-genre is still Curtis Hanson's L.A. Confidential. That said, Hanson's vision for that James Ellroy adaptation would, most likely, never have been possible had it not been for Chinatown leading the way in its style and composition. This is a timeless piece of cinema. Of course, the 1930's setting lends a hand but Chinatown hasn't aged in over 40 years which is a real testament to Polanski's approach to the material and the exemplary work by all involved. Mark Walker
Mark Walker
Super Reviewer
½
An excellent screenplay and a willing crew are all up to task of peeling back the layers of a society not as innocent as it likes to pretend. Nicholson is a detective who accepts that there might be some corruption in the world but decides to limit the avalanche against his better judgment. And although released in the mid70s the idea expressed is that this crap has been going on for awhile. Required viewing for those who appreciate social commentary with their entertainment.
Kevin M. Williams
Super Reviewer
An extremely complex film noir full of mystery and intelligent twists that keep us always guessing and trying to put together the pieces of the puzzle, while its brilliant script is only matched by Polanski's excellent direction and Jack Nicholson's nuanced performance.
Carlos Magalhães
Super Reviewer
Chinatown Quotes
| | |
| --- | --- |
| Man With Knife: | You're a nosy fella, kitty cat, huh? You know what happens to nosy fellas? Huh? No? Wanna guess? Huh? No? Okay. They lose their noses. |
| | |
| --- | --- |
| Ida Sessions: | Are you alone? |
| J.J. Gittes: | Isn't everybody? |
| | |
| --- | --- |
| Evelyn Mulwray: | I don't get tough with anyone ... my lawyer does. |
| | |
| --- | --- |
| J.J. Gittes: | As little as possible |